Story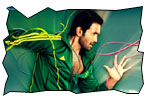 Narasimha (Prakash Raj) is a rowdy who aspires to become a political leader with the blessings of home minister (Sayaji Shinde). Home Minister's son Ajay (Ajay) falls in love with Pooja (Tapsee) who is the sister of Narasimha. Home Minister promises MLA ticket to Narasimha if he marries his sister off to Ajay. Narasimha accepts the proposal. Venkatappa Naidu aka Venky (Vishnu) is an aspiring boxer who chills out with his friends. Due to certain misrepresentation Venky's family thinks that he is dating Pooja. Narasimha thinks that Pooja is dating Venky. Once the misunderstandings are cleared, the damage is already done by Narasimha to the family of Venky. The rest of the story is all about how Venky settles the score with Narasimha
Artists Performance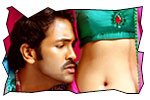 Vishnu Manchu: Vishnu Manchu has positive body language in the movie and he is looking good. He changed his dialogue delivery a bit to suit the modulation of Mohan Babu. He has tried new steps in Dabidi Dibidi song and he is very flexible with his movements in this song. The fights in the movie are also well performed by him.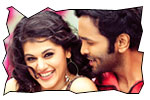 Others: Tapsee is glamorous in the movie. Brahmanandam who starts off in a routine note creates good entertainment in the second half. This character is a cake walk for Prakash Raj and his dialogues are neat. Satyam Rajesh, Siva Reddy and Babloo acted as hero's friends. Ali's cameo is ineffective. Ajay didn't have an effective role in the movie. Sanjay Reddy (CEO of Gemini) did the role of Vishnu's brother and he is camera-friendly.
Technical departments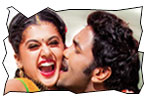 Story - screenplay - direction: It is an interesting story with nice screenplay. The hero and the heroine doesn't meet each other till interval point, but lots of things happen around as everybody thinks that they are dating each other. This film also sports some interesting screenplay that we find in Seenu Vytla's movies. However, the director who could able to come up with decent writing couldn't convert it efficiently onto the screen.
Other departments: Cinematography by the veteran cinematographer S Gopal Reddy is good. This is the first straight Telugu movie to be shot entirely by digital camera. You will not see much of a difference between the output of digital camera and the regular camera. Music by Mani Sharma is good and all the songs are shot well. My favorites are Hello Everybody and Padha Padha. Since the couple meet only during interval, most of the songs are more like imaginary ones from the third character's point of view. Dialogues are okay. There is a good dialogue on the greatness of Telugu and a 'punch' dialogue on Andhra, Rayalaseema and Telangana. Stunts are well choreographed. Production values by 24-Frames factory are good.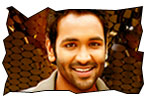 Analysis: First half of the movie is average. There is good entertainment in the second half which is aided by a few screenplay twists. However, the director goes for a predictable climax. The ending/climax is too lengthy. Plus points of the movie are interesting screenplay and entertainment in the second half. On the flip side, The director couldn't get it right in the first half and climax. On a whole, Vastadu Naa Raju is a decent entertainer with commercial elements packed in it.
VNR Links
• User reviews
• Vishnu interview
• Hemanth chat
• Music launch
• Logo launch
• Photo gallery
• Wallpapers
• Trailers & videos
Jeevi reviews of previous 5 films
• Gaganam
• Jai Bolo Telangana
• Ala Modalaindi
• Golkonda High School
• Anaganaga O Dheerudu
• Mirapakai
• Ragada
• Manmadha Banam
• Nagavalli
• Kathi Kantha Rao
• Manasara
• Rakta Charitra 2
• Orange
• Yemaindi Ee Vela
• Kalyanram Kathi
• Rakta Charitra 1
• Khaleja
• Robo
• Saradaga kasepu
• Komaram Puli
• Don Seenu
• Maryada Ramanna
• Jhummandi Naadam
• Vedam


More Reviews