Mahesh acts in Raghavendra Rao's film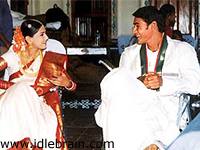 After making splashing debut in the direction of Raghavendra Rao, it's Mahesh turn to return the Guru Dakshina. Mahesh Babu is acting in a film to be produced by Raghavendra Rao in the direction of Sobhan Babu. This Sobhan Babu is a young talented director wannabe who worked as assistant to Ram Gopal Varma and Mahesh Babu. Incidentally he too assisted the dialogue work of the film Murari along with co-directing it. Being impressed with Sobhan's talent, Mahesh Babu gave a chance to him. For the first time, Mahesh Babu is acting with a debutant director. Mani Sharma is providing music for this film. Prasad does cinematography. Sobhan Babu would be providing dialogues and story for this film along with direction a la Poori Jagannath for Badri.
Soundarya turns assistant director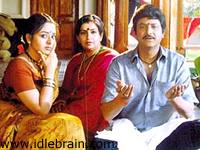 The top heroine of contemporary Telugu cinema Soundarya did take the responsibility of co-directing the film 'Kondaveeti Simhasanam', if the Dasari statements are to be believed. And Dr. Mohan Babu too took the responsibility of production manager when the production manager fallen sick during the shooting of 'Kondaveeti Simhasanam'. With these statements Dasari is trying to convey that everybody in the team are working with passion to make the film a hit. Mohan Babu is doing three get-ups in this film. One of the get up comes as a 99 year old man. This film is going to be released on 4th May, the birthday of Dasari. Dasari is directing and producing this film.
Khushi on 12th or 19th April
The shooting of Khushi is going on in full swing and the photographs of the film are coming out. Pawan Kalyan is dishing out this film after a gap of one year and 30 days. Incidentally, this is the film that has taken longest time in producing by AM Ratnam. He got a fat compliment three years back when Chiranjeevi commended his efficiency of production when AM Ratnam wrapped Sneham Kosam with 56 days of call sheets by Chiranjeevi. The date of the film is almost confirmed. It would be released either on 12th of 19th of April.