'Prematho Raa' is Venky's film title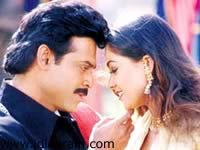 After the debacle of Devi Putrudu, Venky is back with 'Raa' business. He titled his summer release as 'Prematho Raa' by extending the trilogy of Preminchukundam Raa', 'Kalisundam Raa' and 'Jayam Manade Raa'. Shooting of this film would be completed by 15th of this month and would be released in the 4th of May as the summer special. As the title signifies the Hero character Chandu revolves around the theme of love and of course four heroines Simran, Isha Gopikar, Asha Saini and Mink Singh. Bhupati Raja has given story and Ranjendra Kumar gives dialogues. S Gopal Reddy handles photography and Mani Sharma composes music. Uday Shankar of Kalisundam Raa directs this film too. T Trivikrama Rao is producing this film on Vijay Lakshmi Arts banner.
'Kunda Marpidi' for Padmalaya studios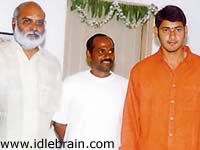 The relationship in film industry works on 'give and take' basis. Just two days after the announcement of Raghavendra Rao producing a film for Mahesh Babu, another venture started by Padmalaya studios and Raghavendra Rao is going to direct this film. The massive blockbuster of year 2000, Kshemamga Velli Labhamga Randi is being remade into Hindi in which Govinda is playing the role of Prakash Raj. The soft Machis hero Chandra Chur Singh will be donning the role of Srikanth. Vinay Anand and Johnny Liver will play the roles of Rajendra Prasad and Brahmanandam respectively. Incidentally, this film is 99th one of Raghavendra Rao. Shooting of this would be completed by August 2001. Raghavendra Rao surprised one and all by speaking about his film in a pressmeet.
AP police donates blood through CCT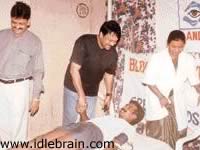 AP Police reserved battalion from Yusuf Guda, Hyderabad has donated blood for Chiranjeevi Charitable trust (CCT). So far 400 members from this unit have given blood and the total count from the Yusufguda unit is expected to go up to 1500. Recently, the members of MAA including Nag, Venky, Simran and Pawan Kalyan have donated blood through CCT for Gujarath quake victims. Raja Sekhar too celebrated his birthday last month in a noble style organizing a blood camp at CCT and make his fans donate blood.