Kannada Prabhakar is no more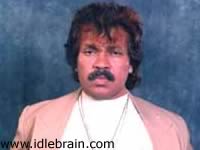 The action king of Kannada film industry Tiger Prabhakar expired on the auspicious day of the Hindu's festival Ugadi (25/3/2001). At 10.50 PM (IST) Prabhakar had his last breathe at Apollo Malya Hospital due to kidney failure. From 8-30PM problems started, and the hospital doctors tried their level best to save him. But his blood pressure and pulse rate started decreasing. Dr. Rajkumar and Smt. Parvarthamma Rajkumar had visited the hospital in the evening and they were there till 7-30 PM. Till last week Prabhakar was suffering from jaundice and he was in hospital. He entered the film field in 1969 and acted in more than 200 films in languages like Telugu, Tamil, Kannada, Malayalam and Hindi. May his soul rest in peace.
NTR - AswiniDutt - Raghavendra Rao combo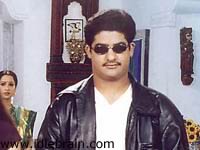 Aswini Dutt and Raghavendra Rao are going to jointly produce a film on the banner of Swapna cinema with Jr. NTR as hero. S S Rajamouli, a protégé of Raghavendra Rao, would direct this film. Rajamouli has direct a few episodes of Raghavendra Rao's teleserial 'Santhi Nivasam'. Raghavendra Rao, who started encouraging the new directors with his film in the direction of Sobhan has given another chance to another new director. Pruthvi Teja is giving story. Hari Anumolu would handle the camera. The selection of remaining cast and crew is going on. This film is expected to go on floors in April and be completed by June 2001. Jr. NTR has taken decision to make film after film rather than signing more films at a time, as per the suggestion of his father Hari Krishna. NTR is playing the role of a college student in this film.
Saakshi is back in the business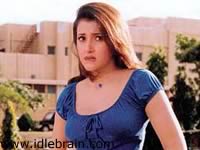 The lithe lass and Saakshi Sivanand did make news for all the wrong reasons in the past. This beauty, whose roots are routed to Rajahmundry, was ill treated by the Telugu film industry for her snobbish behavior. She seems to have buried the hatchet and back in the business with her promising performance-oriented role in Raja Sekhar's 'Simha Raasi'. Raja Sekhar is playing the head of village in this film. The next schedule of this film is slated for 22nd of Rajahmundry this month. Supergood films is remaking their own hit film from Tamil. A new director called Samudram is directing this film.