Laya does own dubbing for Preminchu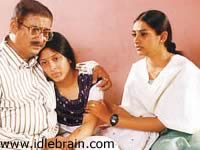 Laya acted as the child artist in the arty film Bhadram Kodako long back. For that film she did her own dubbing. Later on when she entered the field as heroine in Swayamvaram, she needed a dubbing artist. After a few films, she got the courage to ask D Rama Naidu to give her a chance to dub her own voice and got approval. She is playing a blind girl, who over comes blindness. She has a friend Sai Kiran who assists her in this aspect. Sai Kiran has a sister-in-law Rupa. This film is a love triangle between Laya - Sai Kiran - Rupa with the experimental value of blindness attached to it. This film is shaping up for the release on 11th of this month. D Rama Naidu is producing this film on Suresh banner. Boyina Subba Rao directs this film. MM Srilekha wielded the music baton.
Rajendra Prasad Seemantham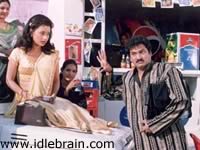 Seemantham is the Telugu traditional way of celebrating the woman's pregnancy. But, here the person who is getting subjected to 'Seemantham' is not a lady, but Rajendra Prasad. The specialty of the film is Rajendra Prasad becoming pregnant. This kind of experiment is done in the past with EVV's 'Jambalakidi Pamba', in which the men become women and vice versa. Relangi Narasimha Rao is directing this film 'Appa Rao 1 Nela Tappadu'. EVV Mallikharjuna Rao is producing the film. Vandemataram Srinivas is providing music. This film would be wrapped by 16th of this month.
Kamal & Soundarya in Mani Ratnam film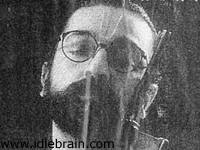 Mani Ratnam has signed on Kamalahasan for his forthcoming film made under the banner of Madras Talkies. This news made ripples down south because of the reason that these two people split after making the national award film 'Nayakan'. But the pathetic financial position of Kamal hasan has prompted him to bury the hatchet and get back to Mani Ratnam. This film also sports the Bollywood star Ajay Devgan. And Kamal and Ajay Devgan in this film would be vying for the attention of Soundarya, who is playing main female lead.