Chiru in London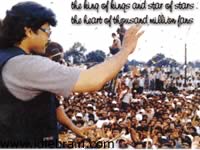 Chiru seems to have become a travel freak and his fondness towards the western land seems to be unstoppable. He is recently spotted at Hyderabad airport taking the night flight to London along with his wife Ms. Surekha for a 10-day jaunt on 1st of April. He is finished with his work for 'Sri Manjunatha'. After returning from the land of Big Ben, he would be starting his next project under Geeta banner. In the beginning of this year, Chiru and his family went for a 35 days holiday in USA. And with in two months, Chiru is back on the voyage to London for another trip. His next project with Geeta arts will start on 19th of April. His next release is Sri Manjunatha on 11th of May 2001.
Superstar's 9-month-old grandson film debut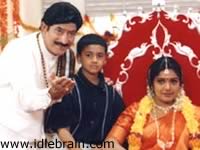 The third generation of Ghattamaneni Vamsam ventured into acting with the film 'Pandanti Samsaram'. Ghattamaneni Jaya Krishna, the 9-month-old son of Ramesh babu made his debut in Pandanti Samsaram. He acted in the subham shot of the film and completed the shot in a single take. Another grandson of Superstar Krishna, Galla Ashok too is making his debut through this film. Like Mahesh Babu, Galla Ashok too is making debut at the age of 7 years. Mahesh Babu made his debut through Krishna's film 'Poratam'. Galla Ashok Kumar is the son of Ms. Padmavathi, on whose name Krishna started Padmalaya studios. So we can expect the grand children of Krishna to become the future Superstars of Telugu cinema. Master Galla Ashok is present in the adjoining photograph.
Nag's film titled 'Bava Nachaadu'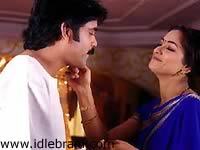 As the release time of Nag's 'Aakasa Veedhilo' hangs in suspense, the other film by Nag in the direction of KS Ravi Kumar completed it's shooting sans three songs. This film is titled as 'Bava Nachaadu'. Unit of this film would go to New Zealand to shoot the remaining three songs on 8th April and returns of 20th April 2001. Rerecording of this film would start in the first week of May and will be released in the last week of May, when Eduruleni Manishi just completes its 50 days run. Nag is playing the role of a responsible 'Bava' in this film as Simran is acting as wife of Nagarjuna. Reema Sen is playing the naughty 'Maradalu', who gets infatuated by the Nag. Roja films is producing this family oriented fun film.