Devayani married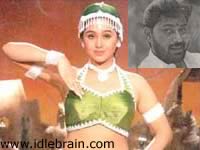 Devayani, the heroine of Suswagatam and Prema Lekha, eloped with and married to Mr. Raja Kumaran(see inset), a Tamil director of two films old, at Tiruttani Murugan temple around 7:00 am on April 9, 2001. Raja Kumaran has directed 'Nee Varuvayane' with Devyani as heroine, which was later remade as 'Ninne Premista' in Telugu with Nag, Srikanth and Soundarya. Devyani has received the Tamilnadu state's award as the best actress with her performance in 'Nee Varuvayane'. This combination of director-heroine is working in an ongoing project too. Devyani is basically a Mallu girl born and brought up in Mumbai. Here is a wish from idlebrain.com to this newly wed couple for a happy married life.
Mohan Babu film titled Adhipati
The Telugu remake of Malayalam hit 'Narasimha' is titled as Adhipati. Dr. Mohan Babu is doing the title role and Preethi Jingyani is doing the female lead in this film. The king of remakes, Ravi Raja Pinisetty is wielding megaphone. Regular shooting of this film would start on 11th of this month. Tamil superstar Rajni Kant has taken a special interest in this film and involved himself in making the nativity changes. This role too is of powerful nature just like Mohan Babu's Rayalaseema Ramanna Chowdary character.
Tarun & Richa paired up again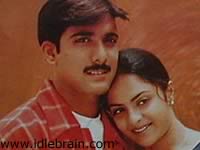 Richa Sharma is the hottest thing in Tollywood now. Not only she got enormous following with just a film, Nuvve Kavali, but also she is carefully choosing the projects from the big banners. She is paired up with Tarun again for the film to be produced by GVG Raju, the producer of Toliprema, the film which gave the Pawan Kalyan unprecedented fan following. Sreeram Balaji, another debutant, is directing this venture. Regular shooting of this film will start on 13th of this month. Other details of the film are awaited. Richa is also acting in the Hindi remakes of 'Nuvve Kavali' and 'Kalisundam Raa!'.