Nag and Soundarya in Adhipati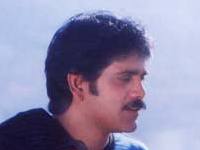 Nag is in New Zealand now to shoot songs for 'Bava Nachaadu' with Simran and Reema Sen. But his fans got a sweet surprise today as Dr. Mohan Babu announced that Nag is playing a powerful quality oriented role in his new film 'Adhipati'. And the darling of masses Soundarya is pitted against Nag in Adhipati. This role was tailor-made for Rajnikant. But, due to Rajni's persistence of not acting in a Mohan Babu's film prompted Mohan Babu to make a frantic call to New Zealand and Nag told 'yes' without even knowing what he is offered. Nag is turning the real savior (Aapadbhandavudu) of the people in bad phase in cinema industry. He also adapted a gild child named Pravallika long back who is studying in Mohan Babu's Vidhya Nikentan in Tirupati. Kudos to Nag for helping people in distress!!
Nag plays antihero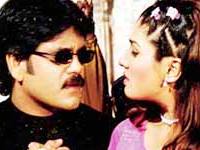 After doing cameo films like Shiva and Khudagawa, Nag is playing the role of artist with negative touch in a Hindi film titled 'Agni Varsha'. This film is not a commercial film. It's an art film canned keeping the film festivals and awards in mind. Arjun Sajanani is directing this film. Agni Varsha is being produced by 9th Channel (a TV channel). Amitab Bacchan too acting in a special role. The other cast in this film includes Jackie Shroff, Raveena Tandon, Milind Soman and Sonali Kulakarni. This film is based on the times of Srikrishna Devarayalu. Lets hope this film gets awards and rewards for Nag.
Bhagyaraja to direct a Telugu film
Lots of films were dubbed into Telugu, which were directed by Bhagyaraja. The most ironic one being Abbai Garu. This film was initially dubbed into Telugu with Bhagyaraja as hero. Later on it was remade into Hindi with Anil and Mudhuri as Beta. And our producers bought the rights again and produced Abbai Garu in Telugu with Venky in the direction of EVV. And it became a big hit at that time. This genius director would be doing his first straight film in Telugu soon. Other details of the film are awaited.