MS Raju to make film with Mahesh Babu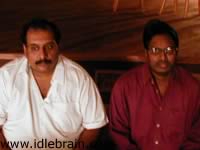 We bumped into Mr. MS Raju at the shooting spot of Cowboy film with Mahesh Babu at Padmalaya studios. Though he sounded little philosophic over the fate of 'Devi Putrudu', he was exited about his next project to started with Mahesh Babu. Guna Sekhar is directing this venture. Upon asked if he hijacked Gunasekhar, Mahesh Babu and the story from MS Reddy's next proposed project, he vehemently replied with a 'No'. The story is new and fresh one. This film is expected to go on floors in September once the Cowboy project's production work is complete. In a few moments Guna Sekhar joined MS Raju and we found the situation to be ideal to click an idle snap!
Trivikram Srinivas to direct a film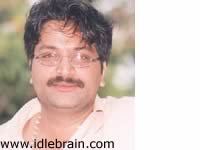 Directing a film comes as a promotion for any technician. More so, if the producer happens to be Sravanthi Ravi Kishore who gave a stupendous hit Nuvve Kavali. Trivikram Srinivas, a dialogue writer, who left his mark on the last year films, as all the three films (Ninne Premista, Nuvve Kavali & Chiru Navvuto) he worked for became super hits. For Chiru Navvuto, he was the storywriter too. Trivikram Srinivas is working on the script of this film and it may go on floors once it is finalized. It is also roumored that Sravanthi Ravi Kishore is also encouraging Suchitra Chandra Bose, the choreographer to make her debut as director for another film to be produced by him. Her choreography for the songs of the film, Nuvve Kavali got very good appreciation.
Mohan Babu is on remake spree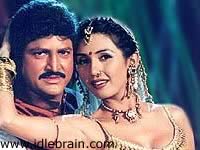 Mohan Babu seems to be reeling under the influence of 'Peda Rayudu' even now. He is showing more interest in remaking hits from other languages rather than going for ingenious stories by our directors. He has story sittings with G Ram Prasad. The director of Chiru Navvuto and they did even announce the title of that film as 'Navvukundam Randi'. But, The Malayalam film 'Narasimha' has become too tempting to resist and he opted for remake of Narasimha than doing a fun film with Ram Prasad. Immediately, Balayya picked up G Ram Prasad for his next project. Mohan Babu gone ahead and started the project 'Adhipati', a remake of Malayalam Narasimha. He is also bought rights for another Malayalam film Kakkakuil. Priyadarshan in Malayalam directed this film.