'Couple seats' in Hyderabad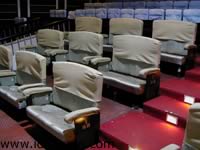 Couple seats are the 'in thing' in Hyderabad. In order to make the theater more comfortable and let the love birds enjoy the privacy as they watch their favorite films, the theater Shanti in Narayana Guda has introduced a couple's special seats. Shanti introduced this feature on 21st of December 2000 with 'Sakutumba Saparivara Samethamga' as the introductory film. Recently, the Satyam theater in Ameerpet too renovated it's popular set up and introduced these couple's seats along with the latest digital equipment. Please check out the photograph of couples seat taken in Shanti cinema hall in Hyderabad.
RB Chowdary present Mitsubishi Lancer to Tarun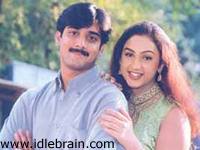 The supreme of Supergood films is a happy man today. His first direct film in Telugu 'Priyamaina Neeku' has become a super hit by running for 50 days in all the centers it was released. This film, released on Maha Siva Rathri, earned the talk of flop in the first week and slowly picked up become a super hit. Since RB Chowdary has given fewer amount as remuneration, he presented Tarun with the latest model of Mitsubishi Lancer worth 11 lakhs to Tarun as a gift.
Mahesh Babu in Andhra Talkies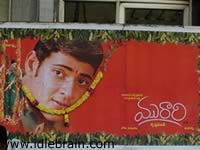 After watching 'Murari' along with Mahesh and Krishna on the first day first show, Director Krishna Vamsi left to Rajasthan to shoot the hindi Version of Anthahpuram with Karishma, Nana Patekar, Sajay Kapoor, Sharukh Khan & Aishwarya. He created a sort of record by completing the Nana Patekar part of the film in just 26 days. He is in Hyderabad recently to take a break. He is planning to start a project with Mahesh Babu on Andhra Talkies banner in the first quarter of next year. He seems to be pretty much delighted with the kind of sync he enjoys with Mahesh. So we can expect another blockbuster from this combination in the next year.