Pawan to do a cameo role in Chiranjeevi Geeta Arts film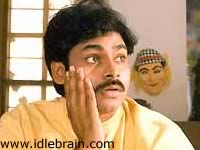 After the terrible flop of Mrigaraju, Chiranjeevi is keeping a low profile. That's the reason why there is no news about the production of Geeta Arts film with Chiru in the press. It has recently finished its shooting in Chandana brothers and moved into the set at Annapurna studios. According to the highly placed reliable sources, there is unconfirmed news that Pawan Kalyan is doing a small role in this film. His role will enter the shooting in the last schedules of the film. This Pawan Kalyan appearance is kept under wraps, as Allu Arvind wants to surprise the crowds on the day one. There was rumor that even Rajendra Prasad is doing an important role in this film. It is not sure if Pawan Kalyan replaced Rajendra Prasad or he is offered another role.
Bhargav Arts completes it first schedule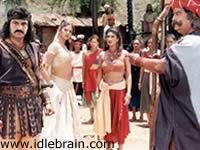 Balayya, the man on the hot seat, after the stupendous success of Narasimha Naidu is doing a never-before janapada film in the direction of Kodi Rama Krishna. At the newly erected set at Vizag's Bhargav studio, this film completed its first schedule that also had the stalwarts like Kaikala Satyanarayana and the heroines Pooja Batra and Anjala Zhaveri. This film sports special effects and breath-stopping creative sets. Next schedule of this film would start on 28th of this month and continues till 15th of June. Title and release date of this film would be announced soon!
Dasari's Rifles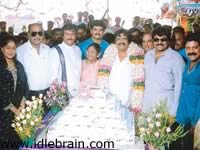 Dasari and audacious statement goes hand in hand. Like Mohan Babu, Dasari too finds it a talisman to do own films. He recently announced that he would be making another film with Arunkumar and Vijaya Shanti in the main leads. This film would be titled as 'Rifles' and would be made in the backdrop of Telangana. On the other hand, Dasari's finished products Chinna and Konadaveeti Simhasanam are finding no buyers. Chinna was consistently being postponed since December of last year. Kondaveeti Simhasanam was supposed to be released on 4th of this month, which falls on the birthday of Dasari. But this film's release too is postponed to June. Dasari also made a categorical statement that he would be making one film a day and would be equally concentrating in politics and in his forthcoming news paper Dasari Udayam.