Mahesh Babu with Rayalaseema backdrop film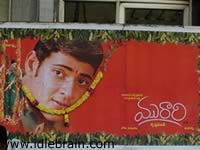 MS Raju, of Sumant Arts, is going to produce a film in the combination of Mahesh Babu and Guna Sekhar in September of this year. This film would be having a violent touch and would be made in the backdrop of Rayalaseema. Bhumika Chawla would be acting as on of the heroines. Paruchuri brothers are giving dialogues for this film. Mani Sharma would be providing music for this film. Amin, who worked for bollywood films like Dil Se and Mission Kashmir, would conceive action scene for this film. This would be the next project to be started by Mahesh Babu.
Bava Nachadu wrapped up in 55 days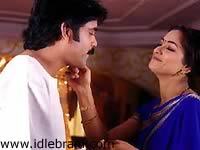 Nag's Bava Nachadu was completed its shooting in just 55 working days, which also includes shooting a couple of songs in abroad. This film is going to be a typical soft comedy, with the sister-in-law Reema Sen teasing Nag and there by creating heart-ache to her sister Simran who is the wife of Nag. KS Ravi Kumar, who has directed comedy films like 'Bhamane Satya Bhamane' and 'Tenali' is directing this film. Incidentally, this is the second straight Telugu film for him after Chiranjeevi's Sneham Kosam. Audio of this film is just released. Keeravani has given music. This film is expected to hit silver screen in this month end.
Prakash Raj in real-life drama
MAA (Movie Artists Association) has banned Prakash Raj for six months for not reporting to the sets of Murari shooting and thereby burning a hole into the pocket of the producer. Prakash Raj protested to the ban by launching a fast-unto-death on the morning of 7th May. Industry collegues like SV Krishna Reddy, Achi Reddy, Sravanthi Ravi Kishore, Bellamkonda Suresh, Pawan Kalyan, and Mahesh Babu etc turned up to show their solidarity to him. Then the MAA president Nag, who arrived from New Zealand, requested Prakash Raj to stop the protest to which Prakash Raj obliged. MAA will meet on 15th of May to take another resolution on Prakash Raj.