One-man show by Balayya for the folklore film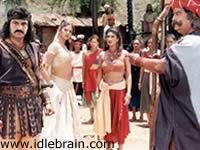 The shooting of Balayya's janapada film is going on in full swing at Vizag. And the news is that Balayya is taking care of the entire project for this film. As Kodi Rama Krishna is not fully conversant with janapada type films, Balayya is helping him out in the shot making. It was always a dream for Balayya to act in films of janapada and pouranika genre films and prove himself as only next to his legendry father NTR. As 'Bhalevadivi Basu' is going to be released on 15th of this month, the movie promotion on TV is intensified. From tonight onward, the songs of the Bhalevadivi Basu would be shown repeatedly in the Bio-scope of Gemini TV. E TV and Gemini TV have geared up to celebrate Balayya birthday on 10th of this month. Bhalevadivi Basu's trailer would be shown on Gemini on that day for more than 40 times, according to highly placed confidential sources.
Kannada Chitram hits Bull's eye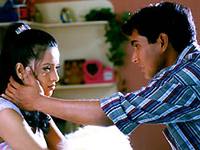 Youth subjects and fresh faces are the new mantra for success in Kannada films. It started with 'Sparsa' last year. The latest news is that Kannada remake of 'Chitram' got sensational talk all over. Teja has directed this film. The ticket rate went for Rs 100/- in black, which is a pretty high rate for Kannada films. Keeping this in mind, the Devi distributor of Rayalaseema ventured in to remaking Tammudu in Kannada with Shiv Raj Kumar and Lisa Ray. Lisa Ray will play the role of Dr Atidi. A new actress Bhavana Pani is roped in to do the main heroine role in this film. Ramana Gogula is the music director and Poori Jagannath is directing this film.
Venu with six new directors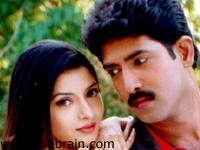 Venu is slowly becoming a hero of quality. He is picking up his stories and banners with uttermost care. He is presently acting in EVV directed film 'Veedekkadi Mogudandi?'. He has signed up with six new directors now. The first one is the editor Mohan's film in the direction of Raja, son of Editor Mohan. This film also sports Mohan Babu in another role. MS Raju (of Devi Putrudu) fame is going to blood another new director with Venu as hero. Venu's home productions is going to produce another film introducing a new director Prabhakar. He will also be acting in one of the future ventures of Usha Kiron movies.