Nag signs four fresh films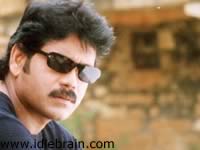 Nagarjuna, who is presently acting as a guest in Adhipati, has signed four more films now. The first one to go on floors is the Telugu version of Tamil 'Friends'. Nag and Sumanth are playing main leads in this film. Bhumika Chawla is paired up opposite Nag in this film. Bala Sekharan of 'Priyamaina Neeku' will direct this venture. The second film is going to be produced by Burugapally Siva Rama Krishna in the direction of Shaji Kailas. Third film is going to be produced by VMC Doraiswamy Raja in the direction of A Kodandarami Reddy. Supergood films would produce the fourth film again. Nag will be acting in this remake of Tamil 'Anandam'. The film 'Anandam' proved to be a hit in both Tamil and Malayalam languages.
Nuvvu Naaku Nachav becomes the cynosure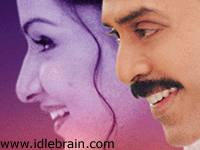 D Suresh Babu is making sure that nobody enters the big palatial house set erected for the film 'Nuvvu Naaku Nachav' at Nanak Ram Guda, Hyderabad. The same kind of precaution was taken for 'Kalisundam Raa' too. Aarti Agrawal, a US based NRI girl is playing the female lead opposite Venky in this film. The dream team of Nuvve Kavali (Vijay Bhaskar-Director, Sravanthi Ravi Kishore - Producer and Trivikram Srinivas - Dialogues) is working for this ambitious project that is being presented by Suresh Productions. According to the producer it's a love subject with fresh theme and treatment. All the songs of this film are interwoven into the story. According to Venky, this film is the cleanest film among the ones he has done past. Is he accepting that his past films are not clean?
Bollywood Star's e-commerce portals go for a bust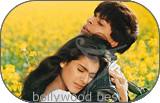 Two stars of bollywood tried to cash in the boom that has set the Internet on fire last year. They are Ajay Devgan and Sharukh Khan. Ajay Devgan launched cineexplore.com, a b2b portal that facilitates all the commerce activities related to Indian cinema. The second one is srkworld.com. cineexplore.com has perished as it could not explore any e-commerce in bollywood. Taking SRK as a brand name, Dreamz Unlimited started off Srkworld.com. It tied up with major music companies to sell the albums. In addition to music sales, it also opted for merchandize of SRK branded products. It banked on a hope that Bharath Shah, of B4U, would buy the portal at exorbitant price at a later point of time. With Bharat Shah being in a mess because of CBI probes, the srkworld.com might be closing its shop anytime. It implies that srkworld.com is not able to support the mounting expenses the 35+ staff incurred during this turbulent period. The other stars are keeping themselves away from net commerce after seeing Ajay Devgan & Shahrukh Khan learn their lesson in a hard way.