Nag in the direction of Vijaya Bhaskar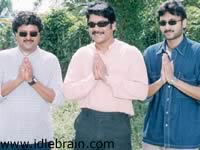 Nag is on a signing spree now. His film with his nephew Sumanth 'Snehamante Idera' is started today at Annapurna studios. Bala Sekharan of 'Priyamaina Neeku' is directing this film. The banner Supergood films that is producing this film is going to do another film titled 'Santosham' with Nag again in October. This film will have three more heroes along with Nag. Srikanth and Venu might act in this film. This film is going to be a remake of Tamil hit 'Aanandam'. RR Shinde, who directed 'Ninne Premista' in the past, would direct this film. Nag is going to act in his home production Annapurna studios at the end of this year. Vijaya Bhaskar of Nuvve Kavali fame will direct this film. Vijaya Bhaskar is directing 'Nuvvu Naaku Nachav' now with Venky. Next month, he will start the Hindi version of 'Nuvve Kavali'. Nag's Aakasa Veedhilo is expected to see the day of light in the next month.
JK Bharavi prepares another subject for Chiru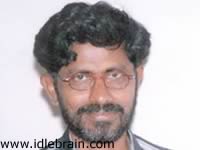 JK Bharavi, who gave devotional subjects to the films Annamayya and Manjunatha is preparing another devotional subject for Chiranjeevi. During the making of 'Manjunatha', Chiranjeevi seems to have got impressed with the way film was shaping up. Hence, he summoned JK Bharavi to prepare another devotional subject for him. JK Bharavai has almost completed the story of the new venture. JK Bharavi is branded as the devotional movie writer as his devotional films are becoming hits as other subjects are flopping at box office. He did also provide stories for two other films. One is Love 1999, a love subject for Naveen. Other film is Vandematharam, a patriotic film for Vijaya Shanti, which has not seen the day of light in Tollywood.
Kasinath returns with Jackpot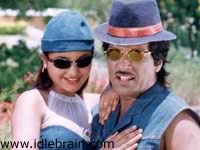 Kannada Kasinath, who acted in his last film 'Vintha Sobhanam' around 13 years back is reentering Telugu film industry with a direct film 'Jackpot'. Kasi Vaswanath did films like 'Aparichitulu', Anubhavam and Vintha Sobhanam in the past. He is acting as hero in this film and also taken the onus of direction, music and screenplay for the same. Jackpot is about the man who wants to become a millionaire without working hard. PN Rama Chandra Rao who directed 'Chitram Bhalare Vichitram' in the past with Naresh and Brahmanandam is producing this 'Jackpot'. Naveena is acting as heroine. Trimurthy films that has dubbed Mummy in Telugu in the past is distributing this film all over AP.