Arti Agrawal: The freshness of Venky's film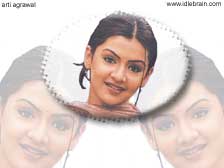 Sravanthi Ravi Kishore is known for his flair in selecting the good-looking heroines. The entire AP went gaga over Richa Sharma after watching Sravanti Ravi Kishore's 'Nuvve Kavali'. He selected another teenage NRI 'Arti Agrawal' from New Jersey apposite Venky in 'Nuvvu Naaku Nachav'. Arti Agrawal is born in Gujarat and brought up in NJ, USA. She acted in an unreleased film 'Pagalpan' earlier. When Sravanti wanted to see the rushes of the film so that he can watch the performance of Arti, that director refused. D Suresh Babu has chipped in and procured a homemade video of Arti and decided to cast her in this film without even taking a screen test. With in a day, Arti is in Rama Naidu studios, Hyderabad. But she got a shock of her life when she was handed over the dialogues version of the script. She wanted to quit the project, as it's too hard to pronounce those dialogues. To make her comfortable, the film started it's shooting with a song between Venky and Asha Saini in which Arti appears a couple of times. This film Nuvvu Naaku Nachav is poised for release on 12th of September 2001.
Mahesh Babu's film titled as Okkadu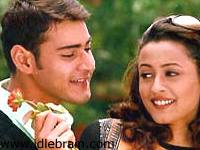 Sumanth Arts that is going to make a film in the direction of Guna Sekhar with Mahesh Babu as hero did registered a title of 'Okkadu'. Mahesh Babu is acting as a sportsman in this film. This is a love story set in the backdrop of Rayalaseema factionism. The entire film revolves around how 'Okkadu' saved the heroine Bhumika Chawla from the clutches of an impending danger. Paruchuri brothers are penning dialogues for this film. Mani Sharma would be scoring music. Guna Sekhar has prepared the gripping story. MS Raju, who has flair for big budget films with crazy star cast will produce this ambitious big budget film with the crazy combination of Mahesh Babu and Bhumika Chawla. The shooting of this film is expected to start after the release of Mahesh Babu's adventurous Cowboy film with Jayant.
NTR in the direction of Suresh Varma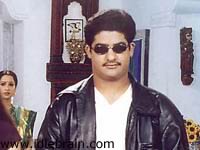 NTR's film 'Ninnu Choodalani' did a good business in Rayalaseema area. RS Films, a production company floated by the Rayalaseema Distributors 'Devi Films', has decided to make a film with NTR as hero. Suresh Varma who has given blockbusters like Sivayya and Manasichi Choodu in the past will direct this film. RS Films is making a film in Kannada with the combination of Siva Raj Kumar and Lisa Ray. Poori Jagannath is directing this remake of 'Tammudu' in Kannada. R Srinivas and PM Hari Kumar are producing this film. Other details of this venture are being worked out.