EVV says 'Thank you Subba Rao'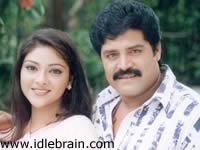 After delivering a plethora of sentimental flicks, EVV is back in his elements. EVV is directing a comedy film 'Thank you Subba Rao' with the man of muscles Srihari. Srihari become famous because of his comedy character in 'Hello Bother', during his struggling days. He did also do some unforgettable roles in Jayant's 'Bavagaru Bagunnara' and 'Premante Idera'. Srihari is playing a private detective in this film. He is the subordinate of his boss Prakash Raj. LB Sriram is acting as a comedy terrorist. Kota-Mallikharjun, the most famous pair of '420' and Hello Brother, is acting as SP and SI of police respectively. MS Narayana is acting as the peon and Brahmanandam as poojari. Abhirami, who acted with Arun in the past, is acting in this film as the heroine. Veteran comedian Allu Ramalingaiah is playing a comedy role in this film. This film will not have any songs. Music is given by Vandemataram Srinivas. Marudhuri Raja provides dialogues. AA Arts is producing this comedy film.
Nag's intro on Yamaha Road Star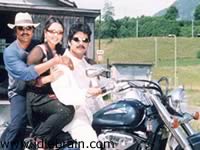 Nag is doing a guest appearance in Mohan Babu's film Adhipati. The unit went to Switzerland to shoot four songs along with the crew and 16 dancers from Hyderabad. An introduction song was canned on Nag who road the Yamaha Road Star along with Soundarya. Three songs were pictured on Mohan Babu and Preethi. This film is a remake of a Malayalam hit 'Narasimha'. This is a story of a sincere IPS officer who was jailed. The IPS officer turns the underworld don. Ravi Raja Pinisetty is directing this film. 85% of the shooting is over. Paruchuri brothers are penning powerful dialogues for this film. This film is expected to hit silver screen in the first week of September 2001. Adhipati is Mohan Babu's 502nd film. Jaya Prakash and Mukesh Rishi are playing main villains. Mohan Babu is producing this film on his home banner 'Sri Lakshmi Prasanna Productions'.
Rajendra Prasad's biographical film: Miss Mumtaj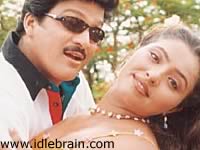 Nata Kiriti Rajendra Prasad is acting a film titled 'Miss Mumtaj'. This film is about an aspiring actor who wants to become hero. According to the director Babu Ganesh, the characterization of hero in this film closely resembles the real life of Rajendra Prasad. Mumtaj, the second heroine of Kushi, is playing double role in this film. It will have crime and suspense backdrop. Sridevi Cine Chitra that has given 'Jayammu Nischayammu Raa' in the past with Rajendra Prasad is producing this film. The second schedule of this film was started on 16th of this month. Brahma is scoring music. The producer is planning to release this film in the third week of August.