Mahesh Babu's Cowboy film titled as 'Maga Dheera …!'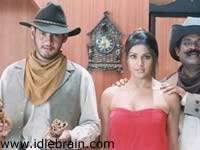 Mahesh Babu's fun and adventurous film in the direction of Jayant C Paranji is titled as 'Maga Dheera …!' (Someone Special). Bipasha Babsu and Lisa Ray are playing heroines in this film. The other title considered for this film was Veera (The Warrior). Mahesh Babu played the hero role of 'Raju' in this film. Mahesh Babu and Jayant are going to USA to make the arrangements for the USA shoot today. The publicity of the film would be launched on 9th of August, which is going to be the birthday of Mahesh Babu. Idlebrain.com will be launching the official web site of the film http://www.magadheera.com on the same day. Earlier, Idlebrain.com ran as a contest on 'suggest a title for Cowboy film' in the past. The titled suggested by idlebrain.com visitors were not liked by Jayant. Hence, he came up with this title. Here is the list of suggested titles.
Balayya's film slated for Christmas release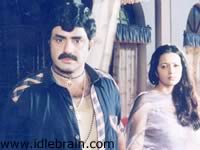 Shooting of Balayya's film with Balaji Arts is going on at a full swing now. The current schedule of the film is going on at Hyderabad. According to a confirmed source, this film is expected to be released in December of this year as the Christmas special. Balayya is playing a powerful character in this film. G Ram Prasad, a protégé of B Gopal, the director of 'Chiru Navvuto' is directing this film. Chinni Krishna, who provided stories for 'Narasimha' and 'Narasimha Naidu' in the past, is proving a gripping story for this untitled film. Simran and Reema Sen are acting as female leads opposite Bala Krishna. Paruchuri brothers are penning dialogues. Mani Sharma is scoring music. Bhagawan Das and Danayya are producing this film. Hence, the release of Balayya's Bhargav arts film is deferred to summer of 2002 from Sankranthi 2002.
Sri's album 'Hai Rama' on 3rd of August
Sri, the music director, is working on his latest album 'Hai Rama!' with Telugu pop singer Smita. This duo has delivered an instant hit album 'Hai Rabba!' in 1999. Archies is releasing 'Hai Rama!' on 3rd of August 2001. Sri is donning the new role of dubbing artist now. He is dubbing for the hero role in the Usha Kiron's film 'Aanandam', directed by Vetla Seenu. Vetla Seenu had earlier directed the award winning 'Nee Kosam' in 1999. Aakash is playing the role of hero in 'Anandam'. He is not working on any movie music now. He is planning to go to US and cut an album soon.