Chiru to celebrate his b'day in Bangalore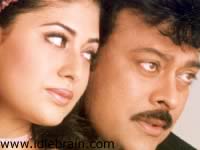 Chiranjeevi is holidaying now in Bangalore at his lavish farmhouse in Yelahanka road along with his family. His birthday celebration on 12 mid-night (21st August night) is strictly a family affair. Lets wish the Megastar a happy birthday! Meanwhile, Allu Arvind has promised to announce the title of the film of Geeta arts tomorrow. The titles like 'Daddy I love You', 'I Love You Daddy', 'Rakta Sambhandam', 'Bandham', 'Daddy' 'Eenati Bandham ..', 'Great Daddy' etc. This film is all about the daughter's relationship with the father. Chiranjeevi and Simran are playing parents to the 5-year old Akshaya in this film. Rajendra Prasad is playing another vital role. Ashima Bhalla is doing the role of second heroine. SA Raj Kumar is providing music. Audio of this film is expected in the first week of September. This film is shaping up for the release on 4th of October.
Samudra to direct Balayya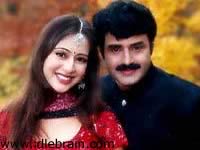 Sumudra, who made his debut through Simharaasi, is the man in demand now. His handling of action and sentimental scenes in Simharaasi has impressed too many and he is flooded with offers. Unlike most of the debut directors who were sitting idle, Samudra is selectively signing the prestigious banners and top heroes. He is going to direct the Sai Balaji arts film to be started in November with Balayya. Bellamkonda Suresh is the producer. He will also direct the Telugu version of Tamil film 'Anandam'. Nagarjuna, Srikanth and Sivaji will play brothers in the neatly woven family tale. He is currently directing a film for the producer of Narasimha Naidu with Srikanth and Shaheen in the main leads. Lets welcome the arrival of high-profile youngster - V Samudra!
JK Bharavi turns director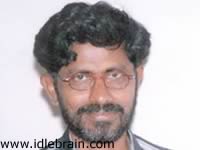 JK Bharavi, the man behind the devotional films Annamayya and Sri Manjunatha is going to direct a film now. He is directing a love story. Nara Jaya Sri Devi of Chinni films is producing this film that goes on floors on 22nd August 2001, Chiranjeevi's birthday. JK Bharavi tried his hand at love story by providing story of K Raghavendra Rao directed 'Love-1999' with Naveen as hero, which bombed miserably at box-office. JK Bharavi has been consistently working for Chinni films for the past 3 years. He gave stories for successful films in Kannada. JK Bharavi is also going to do music direction for this love story.