Roja in Bhargav Arts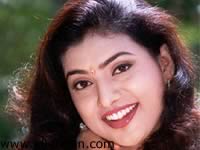 Roja is doing a vital role in Balayya's folklore film by Bhargav Arts. Kodi Rama Krishna is directing this mega-budget film. Pooja Batra and Anjala Zhaveri are playing the remaining main felmale leads. The talkie part of this film would be completed by the end of this year. The postproduction work for this film would be done in three months in the year 2002. This film is releasing as the summer attraction of year 2002. The veteran heroine Bhanumati Rama Krishna is also doing vital role. Balayya is doing duel role as father and son. Roja is acting as the wife of father character in this film. Anjala Zhaveri and Pooja Batra are paired up with the son character. Kaikala Satya Narayana is also playing a meaty role. The unit has moved to Vizag today to start a fresh schedule.'Vikrama Simha Bhoopati' is the tentative title of this film.
Venky to bank on couple of remakes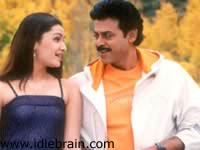 After facing a spate of flops in the recent past, Venky is going back to the old ways. He is planning to act in a couple of remakes. The first film is going to be produced by Oscar Ravi Chandran, a veteran producer from Tamil Nadu. His latest film was a blockbuster in Tamilnadu. Oscar is going to remake that film on his own Banner with Venky in Telugu. The other film is 'Dil' (Tamil). Vikram acted in this film in Tamil version. Incidentally a Telugu producer Atluri Poorna Chandra Rao makes this Tamil film. He is going to remake this film in Telugu soon. Dr. Rama Naidu and Suresh Babu watched the film and are satisfied with it. They are expecting Venky to return from USA and give a nod so that the pre-production activities can take-off. The boxes of 'Dil' are waiting for Venky arrival in Rama Naidu studios.
Srihari 'Thank you Subba Rao' completed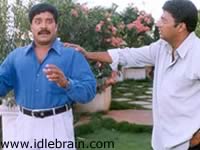 The first Srihari's film as a comedy hero 'Thank you Subba Rao!' in the direction of EVV Satyanarayana. Srihari has done wonderful roles as comedian in various films like 'Hello Brother', 'Bavagaru Bagunnara', 'Rajakumarudu' etc. According to EVV, this film belongs to the league of 'Aa Okkati Adakku', 'Appula Appa Rao'. Mahendra, who made Srihari hero with his film Police, is producing this film. Srihari is playing as an naive detective and Prakash Rao is playing his boss. A dog is playing a vital role in this comedy film. Abhirami is paired up with Srihari. Veteran comedians like Allu Rama Lingaiah, Kota Srinivasa Rao, Brahmanandam, MS Narayana, Chalapati Rao, LB Sriram are working for this film. Marudhuri Raja provides dialogues. Vandemataram is scoring music. This film is expected to hit the silver screen in the next month.