Parenting of girls is the main theme of Venky film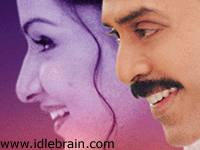 Venky had a bad time in the recent past as his latest films turned out to be disasters. He teamed up with the successful team of 'Nuvve Kavali' and done a project titled 'Nuvvu Naaku Nachav'. This sensitive story revolves around the blossoming love between Venky and Aarti. It also focuses on the parenting issues, especially on the parents of the girls. Prakash Raj is playing the father of heroine in this film. Prakash Raj confesses that he did not over act in that role and he tried to be sublime with his performance. This film has two of the most experience producers in the form of Sravanthi Ravi Kishore (Sravanthi Arts) and D Suresh Babu (Suresh Productions). Music of this film of above average quality and is expected to pick up once the film is released, a la 'Nuvve Kavali'. 'Nuvvu Naaku Nachav' is hitting marquee on 6th of September.
Balayya dare devilry unleashed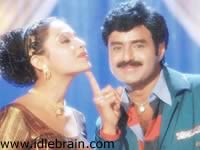 Some actors get obsessed with their profession to such an extent that, some times, they put their life in danger to make the film shape out well. Balayya has done a couple of stunts recently, which were pretty dangerous by Indian standards. In one of such feat, he jumped from a fly-over in Narayana Guda. This 'under-construction' fly-over is of 40 feet height. Kanal Kannan has designed this stunt. In another stunt taken at BHEL, Balayya run on the top of 10 moving busses before jumping into another speeding ambassador car. Few days after doing these feats, Balayya suffered from a 102-degree fever. The above feats are done for a film by Balaji Arts film in the direction of G Ram Prasad. The technical team of Narasimha Naidu is working for this untitled project.
Poori Jagannath dupes Chota K Naidu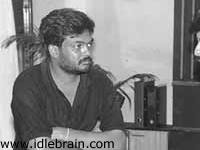 Poori Jagannath worked as an assistant director for more than 10 years. When he was desperate for a direction chance, Chota K Naidu told him he would recommend Poori to Pawan Kalyan. But Chota kept a condition Poori Jagannath must tell him the story. If he were satisfied with the story, Chota would recommend Poori to Pawan Kalyan. He was convinced with the storyline and recommended to Pawan Kalyan. Then movie went on the floors and Badri was released. When Chota saw Badri, he was utterly surprised that it was not the story narrated to him by Poori. He narrated a different story to Pawan Kalyan and made Badri. At present, Poori Jagannath is making a film with the story he narrated to Chota K Naidu. That film is Itlu Sravani Subramanyam, which is going to be released on 13th of September 2001. Ravi Teja and Tanu Roy are playing main leads in this love story.