Mahesh Babu in Diamond Valley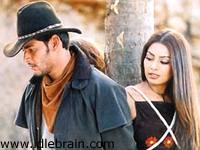 The climax of the most-sought-after film by Mahesh Babu in the direction of Jayant C Paranji is going on at a Diamond Valley erected in Chelakudi forest. Tons of paint was used to paint a natural valley Chelakudi forest. This schedule would last till 25th of September. Later on, there would be a 3-day patchwork to be shot at Nashik followed by a grandeur USA to can a few vital sequences in the land of Cowboys. Mahesh Babu is playing the role of 'Raju' in this film. Sumadhur Audio, a new entrant, is given music rights for this film. Mahesh Babu is giving unlimited support for this ambitious 12 crore project. Mahesh Babu sat idle for 45 days in the mid of this year, when unexpected rains marred the Nashik schedule. No other hero would have done that with a bunch of big producers are chasing Mahesh Babu to start their projects. This ambitious period film with cowboy genre would not become a reality without the staunch support Jayant, as a producer and director, receiving from the hero with a golden heart Mahesh Babu. This film is likely to be released on 10th of January 2001.
Vijaya Shanti finds no buyers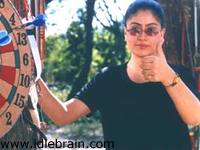 Vijaya Shanti, the lady Amitab of India, is finding it hard to digest the fact that her films are finding no buyers. Three of her completed projects are waiting in the docks to find a buyer. They are 'Sahasa Baludu - Vichitra Kothi' by Krishna Reddy, 'Shivani' by Suresh Varma R and Vandemataram (dubbed film) by Sagar. She had the trend setting films like 'Prathighatana' and 'Osey Ramulamma' to her credit. She did also give memorable hits in the combinations of mass heroes like Bala Krishna and Chiranjeevi. Later on due to ego problems, she stopped acting with big heroes like Chiranjeevi, Nagarjuna, Bala Krishna and Venkatesh. In a hero-dominated Industry like Tollywood, she found no takers for her films in the past 5 years. Dasari's 'Osey Ramulamma' was one of the biggest grosser in the Industry. Later on, she could not deliver a hit film. On the politics front, she did resign from the BJP party and is expected to join AIADMK party in Tamil Nadu.
Rekha's Anandam
Rekha, the demure damsel, is making her grand entry in Telugu with Usha Kiron movies 'Anandam'. Rekha is an Usha Kiron find and she worked for the Kannada version of Chitram as heroine. Seenu Vetla is directing 'Anandam' with a Tamilian 'Akash' as hero. Akash appeared in a brief role in Sumanth's 'Ramma Chilakamma'. Rekha is also taken as heroine in SV Krishna Reddy's 'Jabilli' with 'Repallelo Radha' fame Dileep as hero. Chintapally Ramana is providing dialogues to 'Anandam'. Devi Sri Prasad is scoring music. Shooting of this film is completed in plush Ramoji Rao Film City and would hit the silver screen soon!