Balayya as Durga Prasad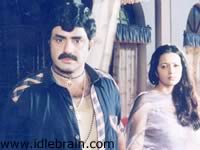 The name of the character of Balayya in the film Balaji Arts is Durga Prasad. He is playing the ardent devotee of Goddess Durga in that film. Few of the vital shots of the film were taken at the famous temple of Ahobilam. Balayya has done nerve-wrecking feats on the helicopter amidst the thousands of people who came to watch the shooting. That risky shot includes of Balayya jumping from a Helicopter flying 200 feet above ground level using a rope. For the first time in the history of APSRTC (Andhra Pradesh State Road Transport Corporation), special busses were plied for a movie shooting on public. G Ram Prasad is directing this film in the B Gopal style. This project has become cynosure of all the movies under production. Balayya is paired up with Simran and Reema Sen. Raghuvaram and Vasu are playing villains. Chinni Krishna is providing story. This film is expected to be titled as 'Durga Prasad' and is slated for the released on 21st of December.
Allu Arjun makes his debut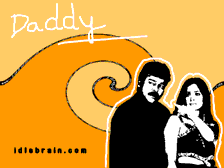 A lanky guy moves his body gracefully for a racy popular English chart buster in the film Daddy. That dance lasted for a couple of minutes and caused great amount of interest among the audience. As that guy does his dance, the Chiru appreciates his dances with a longing affection in his eyes. One would wonder why that lad is given so much of footage in the film. Later on, it is learnt that this dancer is none but, Allu Arjun. He is the one of three sons of the master producer Allu Arvind. There were certain rumors spread at the cinema hall on the 'first day first show' that Pawan Kalyan made a special appearance in the film Daddy. But ultimately, the surprise package of the film Daddy turned out to be the Allu Arjun.
Ramoji's Sitara completes 25 years
Ramoji Rao's Sitara has completed 25 years of successful existence in the field of Telugu film journalism. Sitara is the most popular and reliable telugu film magazine. The morals and ethics followed by Sitara are worth mentioning. It constituted 'Sitara Awards' in the year of 1980 and presented the awards for the best films, artists and technicians for the next two years. They have stopped the awards in 1982, as Ramoji group entered into film production. Idlebrain.com congratulates Sri Atluri Rama Rao, the editor of Sitara for achieving such a rare feat!