RR Shinde is no more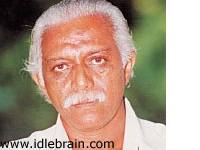 The two-movie old director RR Shinde, 51, was expired yesterday night (14th October) at 11:30 pm due to cancer ailment. He is survived by a wife and two daughters. He was born in Cudappah and completed his degree in Tirupati. He entered film industry 20 years back and worked with prestigious banners like PAP (Prasad Art pictures), Suresh Productions, Jagapati Arts and Annapurna Studios. He became assistant director with Venky's debut film kaliyuga Pandavulu. He worked as an assistant to K Raghavendra Rao, K Baaiah, K Vasu, B Gopal, Murali Mohan Rao, EVV Satyanarayana, Jayant, Priya Darshan, Fazal. Ninne Premista, his first film as director, was a runaway hit. His last rights were performed on the evening of 15th October. The entire movie related celebrities attended the last rights of RR Shinde. May his soul rest in peace.
Venky's future films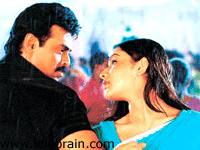 Venky is currently working on Creative commercials film in the direction of Karunakaran. He is playing a lovely character named 'Balu' in this film. This film's shooting would be completed by December and Venky would be available for his future projects from January 2002 onwards. The reason for his 2 months pleasure USA trip this year was to study special effects subject along with reducing his weight. From January onwards he would simultaneously work for two projects by Suresh Productions. Suresh productions is remaking 'Nuvvu Vastavani' film in Hindi with Venky as hero. Lara Dutta is signed as heroine in this film. Vishnu, a debutant director who assisted for the films like Terrorist (Santosh Sivan) and Fiza (Khalid Mohammad), would be directing this venture. Venky would also be simultaneously acting in a Telugu project by Suresh Productions. According to the highly placed sources Venky signed a project for Rama films. Murali Mohan Rao will direct this film.

Tarun in Geeta Arts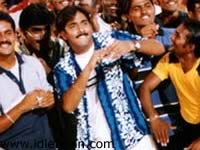 The youth sensation Tarun is signed by Geeta Arts for their future venture. They are scouting for a love story with family touch for as the subject of this venture. No other details are confirmed. It is also not known if the film would be produced on Geeta Arts banner or on a proxy banner. Geeta Arts banners has done films with Chiranjeevi and Pawan Kalyan only in the past. Mean while, Allu Arvind has launch a new company called Allu Entertainment. All companies owned by Allu Arvind would fall as subsidiaries of Allu Entertainment now.