Takkari Donga confirmed for Mahesh film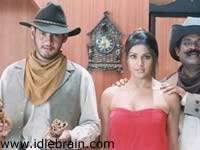 Jayant, The director-producer of the cowboy film, has confirmed 'Takkari Donga' as the title of the film he is making in the combination of Mahesh Babu, Lisa Ray, Bipasha Basu and Rahul Dev. The patchwork for the climax of the film is going on at the diamond valley set erected at Annapura studios. This unit will move to Mahabalipur to picture a couple songs with Lisa Ray and Bipasha Basu each. Shooting of this film would be completed by 15th of December. Editing and dubbing of the rest of the film is completed. Audio of Takkari Donga will be released on 10th of December. This movie is slated for 10th January release as the pongal special. Mahesh Babu has two films lined up to start on immediate basis. Film of RK Film Associates will start on 19th of December. MS Raju's 'Okkadu' in the direction of Guna Sekhar will start on 15th of February. The film 'Okkadu' will be shot in Rayalaseema faction backdrop. Mukesh Rushi (who played villain in Narasimha Naidu) is playing a positive role of father (a sincere police officer) in this film. Prakash Raj is playing the dreaded villain and the faction leader in 'Okkadu'. Bhumika Chawla will do the role of heroine. A huge set worth 1.5 crores is being built in Hyderabad for 'Okkadu' now.

Anji release in February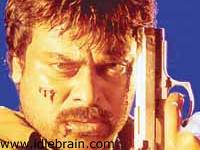 Chiranjeevi is in London now on a dual-purpose visit. The first purpose is to reduce some more weight and the second one is to see the rushes of Anji. The entire film of Anji is complete except for the songs. After seeing the rushes Chiranjeevi is expected to give a go-ahead for the release date. The following are the dates of Chiranjeevi for the songs of Anji film. He gave 30 days for the 5 songs of Anji. The dates are from 1st of December to 15th of December and from 1st of January to 15th of January. The film Anji would then be ready for the release by the month end of January. The exact date would be determined once Chiru comes back from London. Shyam is roping in lots of heroines in the special songs in this film. Jyotika is one among them. Namrata Sirodkar is doing heroine. Tinnu Anand and Bhupinder Singh are playing villains in Anji. Ashok Kumar provides art direction. Chota K Naidu handles camera. Kodi Rama Krishna is the director. Shyam Prasad Reddy is producing this 40 crore multi-lingual venture.

AM Ratnam plans a film each with Tarun, Uday and NTR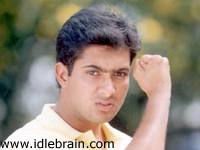 AM Ratnam is on movie making spree. He announced three films the with latest youth heart throbs. His multilingual film with Tarun as hero in the direction of Jyoti Krishna will start in January. PC Sreeram (photography) and AR Rehman (music) are the biggies working for this film. AM Ratnam will also make a mass film with NTR in the direction of Suresh in June 2002. Suresh worked as an assistant to Chandra Sekhar. AM Ratnam did also announce another multilingual with Uday Kiran as hero in the direction of Hosiman. Hosiman worked as an assistant to of Shankar (Oke Okkadu director). Harris Jayaraj will provide music.