Seema Simham producer retains all areas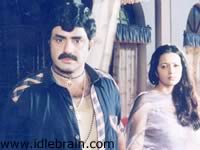 Balayya has advised the producers of Seema Simham to retain rights to the all areas so that they can reap the benefits of success. The producer is brimming with confidence. He minced no words to announce that Seema Simham will surpass the total share of Narasimha Naidu in four weeks. Paruchuri brothers have leaked another powerful dialogue of the film

Villain: 'Choosava! Naa fist power. Nenu Guddite Reku Vangindi'
Balayya: 'Nuvvu Guddite Kaaru Reke Vangindiraa! Nenu Guddite ee bhugolame kungutundiraa'

The producer is going to planning to release Seema Simham audio on 17th of this month. The production work would be completed by 22nd of December. This film is expected for release during Sankranthi 2002.

Nandamuri Taraka Ratna in 5 films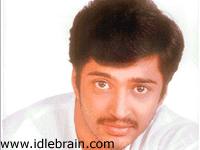 The Sankranthi of 2002 is going to witness the Muhurat of 5 films in which Nandamuri Taraka Ratna is making his debut as hero. Nandumuri Taraka Ratna is the son of Nandamuri Mohan Krishna. Another son of Nandamuri Hari Krishna will also make his debut next year. Looking at the rush of new Nandumuri blood flooding industry, Nandumuri Bala Krishna made an announcement that his son Nandamuri Mokshgna will be the heir of Nandamuri legacy in acting. EVV's elder son Rajesh is acting as a hero and his second son Naresh is becoming a director. AM Ratnam's first son Jyoti Krishna will direct a film as his second son Ravi Krishna is getting trained as hero. Allu Arjun is waiting in the wings to get introduced as hero. Editor Mohan's elder son Raja is directing Hanuman Junction now and his second son Ravi will make debut as hero soon. Master Rama Naidu (son of D Suresh Babu and grand son of D Rama Naidu) is seen as the inheritor of acting prowess from Daggupati Venkatesh. Raja, the son of KS Rama Rao, is also ready to make his debut. These heroes are expected to set ablaze the Telugu silver screen next year!

Nuvve Kavali presented national award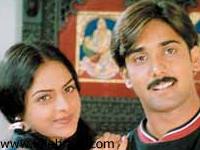 The president KR Narayanan presented in a public function presented 48th National film awards today at New Delhi. Raveena Tandon and Anil Kapoor received the award for the best heroine and hero category respectively. Ritu Parna Ghosh is adjusted as the best director for his Bengali film 'Ustav'. Famous singer Asha Bhosle received the prestigious Dada Saheb Falke award. Nuvve Kavali is adjusted as the best regional film. The director Vijaya Bhaskar received the award along with Suman. Suman is the son of Ramoji Rao and MD of E TV. Telugu critic Vasiraju Prakasm received the national award as the best critic. He is the first Telugu critic to get this national award. Usha Kiran movie's Nuvvu Kavali became the trendsetter of clean films without vulgarity and violence.