Nuvvu Leka Nenu Lenu release on 14th Jan
D Suresh Babu's crazy film 'Nuvvu Leka Nenu Lenu' will be coming as Sankranthi special on 14th of January 2002. Tarun and Arti Agrawal are playing main leads. Kiran Rathod and Laya add quadrangular aspect to this love story. Kaasi Viswanath, who worked as an assistant director for films like Preminchukundam Raa, Ganesh and Kalisundam Raa under Suresh Productions, is making his debut through this film. RP Patnaik is providing music. D Rama Naidu released audio of this film today at Rama Naidu studios. Paruchuri brothers are providing script and dialogues for this film. D Suresh Babu, who produced all his film with Venky alone, is working with a hero other than Venky for the first time. Nuvvu Leka Nenu is in the Sankranthi fray along with two other films Seema Simham and Takkari Donga.

Seema Simham will cross Narasimha Naidu in four weeks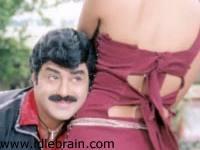 The producers of Seema Simham are becoming more confident day by day. Recently they gave a public statement that Seema Simham will cross the total share of Narasimha Naidu in four weeks. Recently they have canned the hero introduction song 'Manchitanam intiperu - monditanam vantiperu' in Jagadamba center, RK beach and siripuri junction. The audio of this film is expected to be released on 21st of this month. But according to insiders, the audio release might be postponed by a week. The producers are maintaining that the film will be released for Sankranthi 2002. But they have not confirmed the date. The patchwork of the film would be completed by 27th of this month. G Ram Prasad, the protégé of B Gopal, is directing this venture. Balayya is doing a powerful role of Durga Prasad IPS in this film. The theme of this film is about crime and punishment taken in the backdrop of Nizam. Asian films have taken Nizam distribution of this film and Seema Simham is expected to be released in maximum centers in Nizam too. The producer planned the 100 days function of the film in Rajahmundry.
Shankar to make youth film
Shankar of gentleman and oke okkadu fame is planning to make a youthful entertainer now. His film will have five youth pairs sharing the screen. AM Ratnam is going to produce this film. AR Rehman is roped in to provide the music. Shankar has done two exclusive love films in the past. These films are Premikudu (Prabhdeva and Nagma) and Jeans (Aishwarya Rai and Prasanth). AM Ratnam is planning another film with his son Jyoti Krishna as director. It will go on floors on 20th of January 2002. Trisha (Miss Chennai, 2001) is paired up against Tarun in this bilingual love story. AR Rehman gives music and PC Sreeram provides photography. 'Okarikokaru' is the title confirmed tentatively for this film.
.