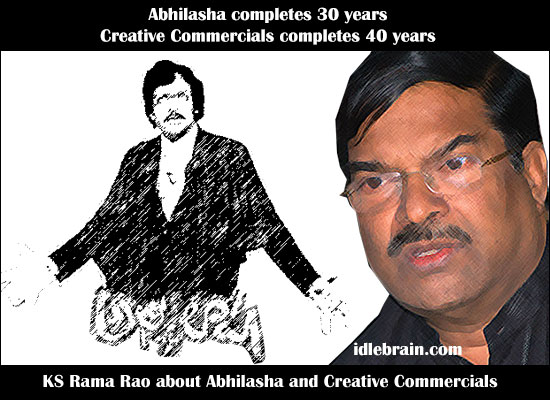 11 March 2013
Hyderabad
Abhilasha – a path breaking commercial blockbuster was released on 11 March, 1983. It's been 30 years. It was the first straight film as a producer for KS Rama Rao. He has started his company Creative Commercials as a radio advertising company in 1973. He has just completed 40 years as the owner of Creative Commercials. Idlebrain.com had a special and exclusive chitchat with KS Rama Rao on 11 March. Here are the excerpts -
Excerpts
I come from a business family in Vijayawada. Vijaywada used to be the film capital of AP in those days. I used to have a lot of film theater owners' kids (Durga Kala Mandir, Jai Hind Talkies, Vijaya Talkies, Lakshmi Talkies etc) in my friends circle when I was a kid. Hence I used to get morning show tickets for all films released in Vijaywada on the day one. I wantched films like Samsaram, Pelli Chesukundam, Devadasu, Anarkali when I was a kid on day one. Since my circle consists of people from film area, I was thoroughly influenced by cinema.
I discontinued my degree and went to Chennai at the age of 21 years to become a director. I have joined legendry director KS Prakasa Rao (father of K Raghavendra Rao) as an apprentice. K Raghavendra Rao was the first assistant director to KS Prakasa Rao at that time. My first film was Bandipotu Dongalu that consists of ANR and SVR. Later I did Vichitra Kutumbam and Naa Tammudu under the same director. My fourth film was Vamsoddarakudu and during the beginning of the film, I got a message from Vijaywada that my father was unwell. I returned to Vijaywada and took care of the family.
In 1973, I have started a radio publicity company called Creative Commercials. I started the company with the help of my friends Vadde Ramesh (producer), Rangachari (Lakshmi Films) and Chanti Babu (Vijaya Pictures). Vividha Bharati was just launched and there were already two established players in radio field. I have implemented variety advertisements and made Creative Commercials a successful company. Some of the successful radio campaigns we did were for Muthyala Muggu, Kondaveeti Donga, Vetagadu and Jeevana Jyothy.
Then I started buying dubbing rights of good Tamil films and dubbed them in Telugu. All these films – Erra Gulabilu, Tic Tic Tic and Mouna Geetham were successful ventures.
I had been an avid reader of literature since childhood. I used to read books at every opportunity I get. The range of my books starts from the works of Adivi Bapiraju and Viswanatha Satyanarayana. When writers like Muppalla Ranganayakamma and Yaddanapudi Sulochana Rani was ruling the roost, Yandamuri Veerendranath entered with thriller novels like Tulasi Dalam etc.
I was impressed with Tilasidalam and wanted to make that movie and approached Yandamuri for the rights. Then he narrated me the story of his unpublished novel titled 'Abhilasha' which deals about capital punishment. I was impressed with it and bought the rights to produce my first direct film as a producer. My friend Kranthi Kumar suggested me A Kodandarami Reddy. Khaidi film was yet to be released and I thought that Chiranjeevi would do justice to the character. When I approached Chiranjeevi about the film he took a liking to the script. Later I came to know that his mother has already told him about Abhilasha novel that was being published in Andhra Jyothy weekly magazine at that time. Writers Yandamuri, Satyanand and Satyamurthy (Devi Sri Prasad's father) formed the core team. Ilayaraja and Lok Singh were principle technicians. Out team (Chiranjeevi + A Kodandarami Reddy + Ilayaraja + Yandamuri + Lok Singh + Me + Satyanand + Satya Murthy) were like the most successful T20 franchise that won IPL cup. All of us were effeicient at our core fields and worked towards the same goal despite having different orientations. We gave three continuous hits – Abhilasha, Challenge and Rakshasudu.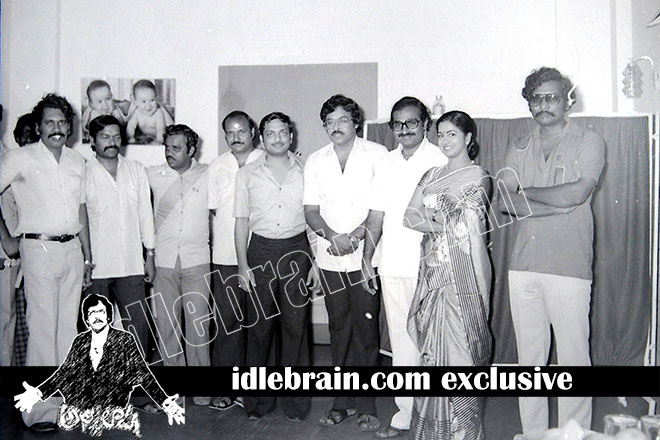 I was the one who coined Mega Star title for Chiranjeevi with the title cards of Marana Mrudangam. Chiranjeevi was having dynamic hero, supreme hero as his titles earlier. Chiranjeevi also took a liking to Mega star title and the rest is history. I wanted to have a superlative title for a star and I searched dictionary and found the word mega. I am very happy to be associated with that title.
I have made around 35 films in Creative commercials banner and other sister concerns. I have made big budgeted films and small films like Punya Sthri and Matrudevobhava that went on to become huge hits. I am currently grooming my son Alexander Vallabha to take over Creative Commercials. I am currently doing both big and small films. I have a couple of films with big stars lined up. I have the following three small budgeted films under anvil
1. Telugu remake of Tamil hit Mounaguru. This film is being made with Nara Rohit and Regina Cassandra in the direction of Tatineni Satya. My nephew Kinnu is the producer and I am presenting it.
2. Prakash Raj is going to direct a bilingual soon. I and Prakash Raj are going to jointly produce this movie. We will introduce a new hero.
3. I am going to produce a film in the direction of Maruthi (Ee Rojullo fame). Maruthi was CEO of graphics/animation company started by my son. He was also a principle coordinator of the movie 'A Film by Aravind' for which I was the presenter. Our association goes a long way.