14th April 2005

About Soggadu?
Soggadu is one of my favorite films, and it will always be cherished as one of my best movies. Nuvve Nuvve was the script that I enjoyed working on and after that it is this film that I have thoroughly enjoyed working for. Out of all my films the characters of Nuvve Nuvve and Soggadu have been the ones that I have, you know had fun doing. But that doesn't mean that I don't like my earlier or other films.
What do you feel seeing the outcome of the film?
The film is doing great that is something that we felt happy about. Even with so many films releasing simultaneously it is going great guns. The audiences are liking the film and are appreciating it for its wholesome entertainment.
Did you go and watch the reaction of the audience in the theatres. And what was that you felt?
Yes, I did watch the film with a live audience. It was at Pallakollu, where I was shooting for my next film Oka Oorilo. I felt really happy to see that the audiences were shouting and cheering all the comedy scenes between my friends and me. The reaction of the audience was something that really gives me a high as an actor.
What are your future projects that you are involved in?
Next I am working for Oka Oorilo, the film is being produced by Chanti Adala. That is it right now.
After talking about his next film, he talks about working under the famous Suresh Productions banner.
The banner:
It was a great feeling to work under Suresh Productions banner for the second time. The first time was Nuvvuleka Nenulenu, that movie was also with Aarti Agarwal. That movie was a major hit for me and now this film is also proving lucky for me. I am always happy to act with such a banner where you learn something new everyday. Suresh Babu is someone who works for all his films like they are his first film.
The director:
Ravi is very planned and meticulous about his movie. He was always telling us how to do a particular scene. He has all the scenes planned in his head and he follows them as it is on screen. If I was supposed to sit here with my friends and have coffee, then that is how the scene is going to be and he also has a fixed place for all and how to look and react.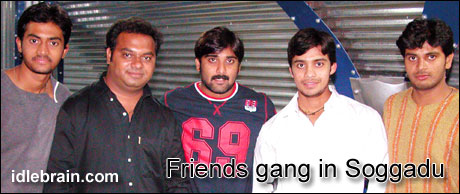 How was it working with all the guys in the friends group?
It was like a paid holiday and full of fun. All six of us that is, Vishveshwara, Santosh, Vijay, Siva, Nutan and me were like a real group of friends who kept going around. We actually felt like the basti-based gang from the movie. This friendship that we developed in the film has been continuing.
That is when the whole gang expresses their happiness for acting with each other. The fun that had on celluloid is seen at Snow World, where they are having a blast.
What about the recent suicide attempt by Aarti Agarwal, and Tarun's alleged link with her?
Well I have been linked with almost all my co-stars, once with Shriya, in Tamil with Trisha and the latest is Aarti Agarwal. But there is no truth in this matter, we are just good friends even off screen. It is just like a friendship in college, where two students exchange notes; we exchange our notes on acting. Just because people see us romancing on-screen, they tend to jump to the conclusion that we are in love off-screen if they see us talking.
She has been a good co-star and a very friendly person to act with. I am comfortable working with her as she and I share a good onscreen chemistry.
What is the one thing that you would like to change in Soggadu?
It has to be the flash back bit; it seems to long for the film. This is not something that I am saying just because I am not in it. This is something that I felt should have been different as an audience.
How were you feeling about making your friends jumping into dumpsters and paint drums?
It was just fun and it was a great feeling to see the audience laugh and cheer us during those particular scenes. When we were shooting we were laughing at the scenes. And during the show we remembered our efforts when we were doing those particular scenes.
It was the whole batch of friends who spoke next and thanked Suresh Babu and Ravi Babu for making this movie and giving them the opportunity to show their talent to the audience. After the interview the group of friends returned to the snow dome to give a few interviews to various channels.
- Aditya
More chitchats
Raghu Babu
Krishna Vamsi
Posani Krishna Murali
AS Ravi Kumar Chowdary
Sravanthi Ravi Kishore
MS Raju
AM Ratnam
Nagarjuna
Ram Gopal Varma 2
SS Rajamouli
Venkatesh
Mahesh Babu
Ram Gopal Varma
Vanisri