Anand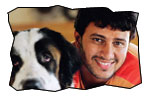 Hi Telugu cinema audience,
I watched Anand 2 weeks back and could not stop thinking about it. To start with Anand is a "feel good movie". It makes you feel good at moments, makes you laugh some times and warms up your heart at places. What else can you expect from a movie, when each sip of my coffee next day morning brought good memories of Anand.
There are some scenes which made me feel "Oooh, what a scene" (Vollu gagurpodichindi). In one of the scenes just before the interval, heroine walks away from the hero with a smile showing "its all fate" when the background is playing" pundupai kaaram challi, puvvulaa navvestundi". That just struck me like a thunder bolt and I was hooked.
This movie is all about emotions, subtle humor and good moments of life. Melodious music and Veturi lyrics have added flavor to this movie. I have not seen some thing like this for a long time. I don't think I need to write more to say this is the best movie I have seen. It's just an amazing movie. Simply watch it with no expectations and I am sure you will love it.
Thanks
Sai Prasad
[email protected]

More My Movie experiences:
Rohit - Anand & Veer Zaara
Jaya Prakash - 7GBC
Raj - Anand
Purnesh - Anand
Purnesh - The Village
Sriram - Gudumba Shankar
Purnesh - Gharshana
Purnesh - Lakshya
Purnesh - Yuva
Leenesh - Yuva
Kis - Lakshmi Narasimha
Indian Pride - Tagore
Raj - Boys
Phani - Gangotri
Phani - Khadgam
Vikram - CKR
BKR - Indra (Singapore)
Ram - Indra (Dubai)
Ranjeet - Idiot
Rahul - Indra
King Koduri - Indra
Srilakshmi Katragadda - Mitr: My Friend