Nag takes over the 'Raa' tradition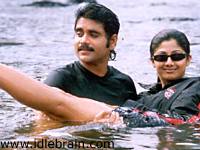 Venky is labeled as the 'Raa' hero with films like Preminchukundam Raa, Premante Idera, Kalisundam Raa, Jayam Manaderaa and Prematho Raa. Now Nag is going to give a film titled 'Snehamante Idera'. This film is going to be the remake of Tamil 'Friends'. Supargood film is producing this film. Balasekharan and Shiva Shankar of 'Priyamaina Neeku' are doing the direction and music respectively. Initially, Mr. RR Shinde was supposed to direct this film. But Balasekharan has taken over the reins as Shinde is having health problems. Nag and Sumanth are acting as thick friends in this film. Bhoomika is playing Nag's sister and Sumanth's clandestine lover. Sumanth loves Bhoomika. But could not continue the relationship as she is sister of his thick friend Nag. Audio Recording of this film started at Kodandapani Studios in Chennai on 27th of this month. Snehamante Idera will go on floors on 2nd of July.
MS Raju 's first tension-free project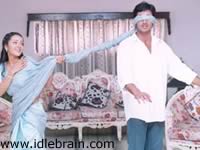 MS Raju, who gave blockbusters with Venky and Kodi in the past, had given a strange statement today. He opined that his film under the production 'Manasantha Nuvve' is the first project he is handling with a peaceful mind. A debutant director Aditya is directing this film. Chitram pair Reema Sen and Uday Kiran is playing main leads. RP Patnaik, the revealation of Chitram, is composing music. Seeta Rama Sastry is penning lyrics for all the songs and Suchitra is composing dances for all the songs. Paruchuri brothers are providing screenplay and dialogues. S Gopal Reddy is doing the cinematography. Shooting part of this film would be completed by the month end of August and this film is slated for release in the last week of September.
Ramma Chilakamma is releasing on 13th July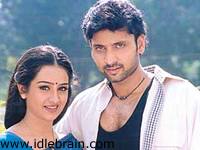 'Ramma Chilakamma', the fourth project of Sumanth, is finally seeing the day of light on 13th of July. Annapurna pictures has bought the all Andhra rights for the film from producer KC Sekhara Babu. This film would be released with the help of Mayuri Distributors, a distribution wing of Ramoji Rao. The producer has tied up with Janapriya Syndicate of Hyderabad to provide a free double bedroom flat for the winner holding the lucky ticket. This film is a remake of a hit Tamil film. Sumanth plays a ruffian with human touch in this film. Laya, who delivered award-winning performance in 'Preminchu' is playing heroine. Sivaji is also doing an important role. Tammareddy Bharadwaja is directing this film. Audio of this film has become a big hit. RP Patnaik has given music for this film.