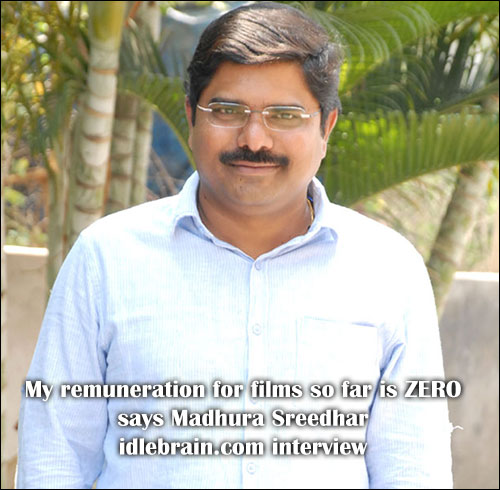 15 March 2013
Hyderabad
Madhura Sreedhar's latest film Backbench Student is releasing today. This film is inspired by a true event. Sreedhar tells us how he keeps getting continuous film offers despite not having success at box office. An exclusive interview -
What went right/wrong with your last movie It's My Love Story?
Writing went wrong for IMLS and I was on learning curve. On the positive side, IMLS has collected theatrical revenue of Rs 40 laks and it was patronized by youth in the age group of 18 to 23. IMLS did well on TV channels and my first two films gave me good brand value for satellite rights which helped in getting good offers for Backbench Student film.
Your first two films didn't do well at box office. Your 3rd film is releasing now and your 4th film Dana Karna is also finalized. How did you manage continuous offers?
I never narrated story of my films to producers. I go with a proposal with a budget figure and how I would market the film by positioning it properly. I am hardworking, truthful and sincere as a director. I never misused producer's money. I didn't even use producer's money to fill a liter of diesel in my car. I do lead by an example to my team. The producer will definitely get impressed if you sincere to work and treat money with respect. Multi Dimensions Vasu has seen me at work and gave me a blanket offer.
I never took remuneration for any of my films so far. Instead, I worked on profit sharing basis. I am hoping that Backbench Student will get me some money. I also make sure that the movie is made in a low budget with minimal resources in minimum number of working days. Backbench student took just 46 working days to shoot.
I also do a lot of marketing by personally interacting with media. We have used a yellow vespa scooter for heroine in this movie. We requested Vespa company to give us a Vespa for free to promote movie. They sent us a Vespa from their Pune factory and we ran a contest in Radio Mirchi and gave it away to the winner. TV9 and MAA TV did the live telecast of music launch of the film for free.
How did Backbench Student materialize?
I wanted to do a film titled Om Mangalam which deals with divorce. I also wanted to do a film adaptation of Chetan Bhagat's Revolution 2020. That is when I met Karthik who approached me for career guidance. Karthik failed in 16 subjects and his girlfriend ditched him to go to USA. After talking to him, I have realized that he is pretty good with AUTOCAD. I asked him to take a slot for 2 hours in a Ameerpet coaching institute and asked him to teach AUTOCAD. It worked really well for him and his life is settled now. This incident triggered me to write story of Backbench Student.
What will Backbench Student tell us?
The BBS film primarily tells us two things. 1. Failing in exam doesn't mean that failing in life. 2. Be socially responsible.
What is your next film?
It's Dana Karna. It's going to be an official remake of Bollywood blockbuster 'Vicky Donor'. MVK Reddy and Multi Dimension might jointly produce it.