Story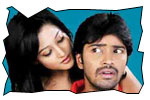 Subramanyam (Allari Naresh) is a sincere software engineer with a girl friend (Anitha). On night, he finds himself in bed with a strange girl Sanjana (Ritu Barmecha). She turns out to be the only sister to three gangster brothers (Srihari, Subbbaraju & Samrat). These three brothers try to marry Subramanyam off to Sanjana. The rest of the story is all about how Subramanyam resists the ploys of gangsters before finding his true love.
Artists Performance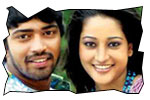 It's a little sophisticated role for Allari Naresh and he makes sure that his brand of comedy is intact. It is Srihari who grabs the limelight with his nice dialogues and entertaining performance. Brahmanandam is hilarious in the final parts of the movie. The combination of Srihari and Brahmanandam worked well on the screen. Anita is good as girlfriend of hero and Ritu Barmecha is okay. Vennela Kishore is good as love guru. MS Narayana entertains as marriage broker. Thagubothu Ramesh (Ala Modalaindi fame) appears again in a similar role and entertains. Nagineedu, Subbaraju, Samrat, Ahuti Prasad etc are okay.
Technical departments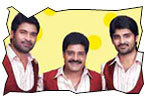 Story - screenplay - direction: The story of the movie is heavily inspired by a 2002 Korean Comedy 'Marrying The Mafia' (Gamuneui yeonggwang). The basic plot and lots of scenes in this movie are taken as they are in the original. Debutant director Veerabhadram made sure that he injected entertainment by creating the character of Brahmanandam. The characterization of Srihari works well in this movie though we have seen several similar characters for Srihari post Dhee. Debutant director Veerabhadram is okay with his work and is good in a few comedy episodes. However, his over-dependence on other movies in terms of borrowing scenes should be pruned (for example the flight crashing comedy episode is lifted from Hindi flick Dhamaal). There are couple of scenes that worked really well (the pokiri scene in lift and the scene in which Brahmanandam tries to slap Srihari).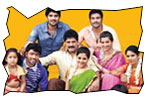 Other departments: Dialogue writer Sridhar Seepana deserves appreciation for his quirky dialogues. Cinematography is average. The graphic work done for a few episodes (especially flight crash) is not upto the mark. Music by Raghu Kunche is average and there are couple of borrowed Bollywood tunes. The background music should have been better. Producer Anil Sunkara who gave a hit Bindaas as his first film made sure that he came up with another safe project.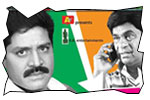 Analysis: Though the story based on a korean comedy, director Veerabrahmam made sure that comedy written between Allari Naresh, Srihari and Brahmanandam works well on the screen. There are certain points in the movie that needs improvement. Allari Naresh continues his 'safe hero to bet on' image successfully with this movie as well. On a whole, Aha Naa Pellanta is an okay entertainer despite having certain inspired stuff.
ANP Links
• User reviews
• Veerabhadram interview
• Music launch
• Press meet
• Photo gallery
• Wallpapers
• Trailers & videos
Jeevi reviews of previous 5 films
• Kudirithe Kappu Coffee
• LBW
• Vastadu Naa Raju
• Gaganam
• Jai Bolo Telangana
• Ala Modalaindi
• Golkonda High School
• Anaganaga O Dheerudu
• Mirapakai
• Ragada
• Manmadha Banam
• Nagavalli
• Kathi Kantha Rao
• Manasara
• Rakta Charitra 2
• Orange
• Yemaindi Ee Vela
• Kalyanram Kathi
• Rakta Charitra 1
• Khaleja
• Robo
• Saradaga kasepu
• Komaram Puli
• Don Seenu
• Maryada Ramanna
• Jhummandi Naadam
• Vedam


More Reviews