Story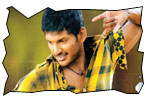 Krishna (Vishal) is from a village. His brother Rambabu runs away from home because his parents scolded him. 20 years later, Krishna's mother falls sick and asks Krishna to search for her son and bring him back home. Krishna reaches Vizag in search of his brother. Vizag city is ruled by two warring mafia dons Surya Prakash (Prakash Raj) and Guru (Kishore). In the process, Krishna gets entangled in the fights of these dons. Rest of the story is all about how he finds out his brother and puts an end to the rivalry between the dons.
Artists Performance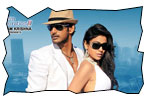 Vishal is perfect as the mass hero in this movie. His dialogue delivery is getting better film by film. But he still needs to get Telugu nativity right in his diction. He excelled in stunt sequences. There is lots of energy in his dances. Shriya is excellent in this movie and she is extremely glamorous in songs. Prakash Raj did the role a villain and he is good as usual. Kishore impresses with his sharp features and fine performance. Ali provides ample comic relief in this movie. Telangana Sakuntala is seen in an entertaining role in Telugu movies after a long gap. Other stop-gap Telugu actors like MS Narayana, Dharmavarapu, Gowtam Raju etc are adequate.
Technical departments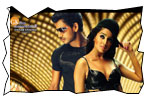 Story - screenplay - direction: Story of the movie is pretty old. The director has taken the beaten path to write the screenplay for the movie by stuffing ample commercial elements. He made sure that there are all emotions like comedy, sentiment, action and romance. The way hero is introduced is good and the interval twist is also nice. The director could not script the duel between Vishal and Prakash Raj characters in the second half well. There is no scope for heroine in the second half and all the scenes involving Shriya in second half are unnecessary. Hence the movie loses its steam in the second half.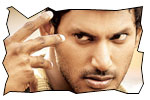 Other departments: Mani Sharma's music for the film is decent. His tunes remind us of his own turns scored in early 2000's. 'Naa Maharani' song is best to listen and also in the terms of picturization. The first song is also shot well. A Telugu song is shot in Ladakh after a long gap. Dialogues are adequate. Stunts are alright. Production values are grand.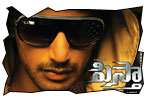 Analysis: First half of the film is adequate with the right mix of commercial elements. Interval twist is good. Second half goes awry because the battle between hero and villain is not interesting. The climax of the movie offers heavy duty stunts. The plus points are lead pair, Ali's comedy and commercial elements. The negative point is the second half. Producer Vikram Krishna has spent crores of rupees on painting the entire AP red with vinyl hoardings and posters of Pista. It resulted in grand openings for Pista. The long run of the movie will depend on how the masses (especially B and C center crowds) embrace it.
Pista links
• Vishal inetrview
• Photo gallery
• Wallpapers
• Trailers
Jeevi reviews of previous 5 films
• Prayanam
• Kick
• Veedokkade
• Mitrudu
• Circus Circus
• Adhineta
• Punnam Naagu
• Ananda Tandavam
• Billa
• Bheebatsam
• Manorama
• Aakasamantha
• Sontha Vooru
• Malli Malli
• Mesthri
• Naa girlfriend baga rich
• Drona
• 16 Days
• Satyameva Jayathe
• Siddham
• Nenu Devudni
• Konchem Istam Konchem Kastam
• Shh...
• Arundhati

More Reviews