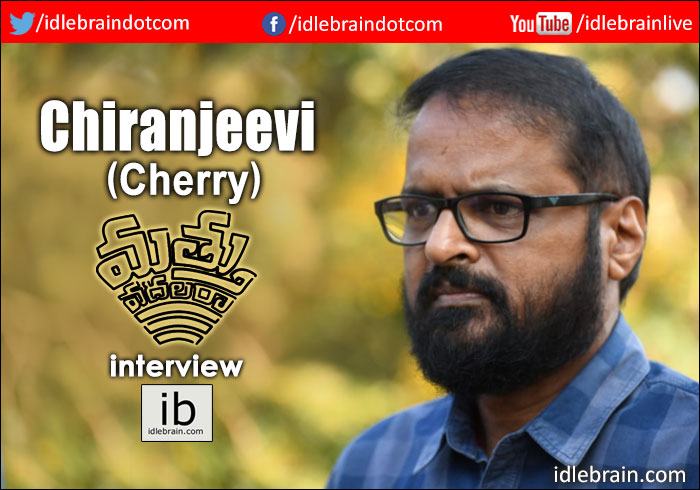 26 December 2019
Hyderabad
Cherry (Chiranjeevi) is not new to films. He had been in and out of industry in various capacities since 1994. He has a knack of selecting good content films. His latest production Mathu Vadalara is a fine example. In our exclusive interview, Cherry talks about the making of Mathu Vadalara -

Background:
I have entered into Telugu film industry in 1994. I did work as an executive producer for RGV's Money and then as co-producer for Krishna Vamsi's Gulabi. I was the executive producer for RGV's Rangeela. After that I ventured into business. I assisted for the marketing of Chandra Sekhar Yeleti's films Aithe and Anukokunda Oka Roju. I was the executive producer for SS Rajamouli's Chatrapati and Vikramarkudu. I was one of the producers of Rajamouli-NTR's Yamadonga. I produced Okkadunnadu in Chandra Sekhar Yeleti's direction on my home banner Clap Entertainment, Then I took a break to venture into other industries. Then I rejoined in film industry again as CEO of Mythri Movie Makers from Rangastalam movie in 2016.

Script okayed in 2016:
Naveen and Ravi (Mythri Movie Makers) have asked me to look for small budget films and they were willing to fund the right scripts. Ritesh Rana approached me during Rangastalam time and narrated the story of Mathu Vadalara. I have liked it instantly and made him give the narration to the producers of Mythri Movie Makers. We have decided to produce the film. But the director asked for more time to iron the script.

Sons of Keeravani:
Ritesh told me that he is looking for new cast and crew. But, he had Satya in his mind while writing the character of Yesu. He wanted familiar faces for supporting roles, but new faces for lead roles. I had been observing Sri Simha since his childhood. He was always interested in acting. He acted as kid version of Jr. NTR in Yamadonga film. He has also worked as an associate director for Rangastalam film. I used to observe his enthusiasm and body language. He used to dance at intervals. When I asked the director, he also felt that Sri Simha would do justice. Kaala Bhairava is already known to music lovers as a singer of Baahubali 2. He has also done re-recording for a few scenes in Baahubali. He assists his dad in composing music. I though a quirky subject like this would give him an opportunity to experiment and explore music.

Tight budgeting:
A film of this type costs around 4 crores. But we have done the film in 2.1 crores. If you take out the remunerations, actual production cost is 1.3 crores. This film is shot in 42 days. Satya worked for 35 days. The lead actors traveled in their own vehicles.

Ritesh Rana used to bring his directors team in his car. The director's team has taken care of graphics and DI. All we had to do is provide them with two systems with graphics cards. If we hired a professional agency it would have cost us 50 lakhs for graphics and 10 lakhs for DI. The other members in the director's team are Teja, Thomas, Veturi and Suraj. Each of them are capable of directing films on their own.

Limited release:
Five films were released on the 20th of this month. It's not easy to manage theaters for a mid-week release. We are going to add more theaters from Friday (27 December). I am sure the word of mouth and reviews help us getting more theaters and more crowds.

Business:
We have sold satellite and digital rights prior to release and made profits. We are sure that theatrical revenues will also be good once we add more theaters.

Mythri Movie Makers:
Naveen and Ravi supported me morally and financially to make this film. Thanks to them. I will continue to make my more low budget films in this format. The next film will be from the same directorial team. But, the director will be different.