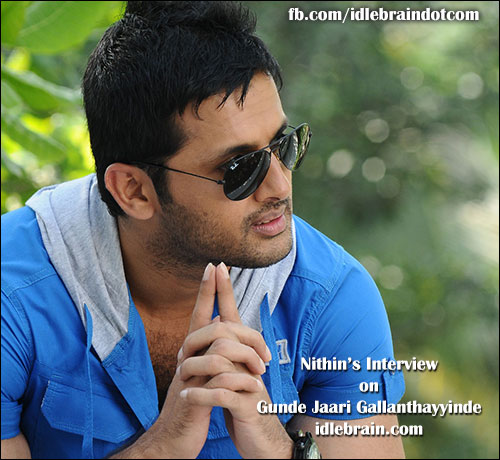 18 April 2013
Hyderabad
Nitin has steadied his career with the hit of Ishq and his latest film Gunde Jaari Gallanthayyinde is releasing on 19 April. Nitin, Nitya, Anoop Rubens and production house are repeated for this film. Here is our exclusive interview with actor Nitin -.
Tell us about the situation you are in while doing Ishq and the after effects
I was at the rock bottom of my career. I wanted to take a break. My friends asked me to do a fresh love story. I was tired of doing mass and action oriented film. I listened to a love story narrated by Vikram 4 years back. After that he went to Bollywood and made 13B which was a good success. I wanted to do a film in direction of Vikram. When I called up Vikram he said that he was doing a Tamil film with Vikram as hero. Later on it was shelved and I approached director Vikram again. He has agreed to do the film and worked on the script of Ishq for 6 months. He made sure that story is the hero of film and technicians and actors were fit around the script. Nitya's screen presence and PC Sreeram's camera helped the film a lot. PC Sreeram accepts films on story basis, not on hero/budget basis.
I had been working hard for all my films and I know that God will give prosperity to all hard working people. The director has asked me to be myself, hence you see a different Nitin in Ishq. I am very happy the way Ishq has performed at boxoffice.It satisfied everybody including buyers and audiences. Ishq has completed 100 days in 14 direct centers without any deficit.
Tell us about Gunde Jaari Gallanthayyinde?
I okayed this story two months before the release of Ishq film. It was Satyam Rajesh who introduced me to Vijay Konda. I loved the basic plot which is unusual. I can't say that it's first of its kind. A Telugu film with similar premise was released around 18/19 years back. Actor Harsha Vardhan (Amrutham fame) is the script and dialogue writer for this movie. They have worked for 6 months on the script.
GJG is a quadrangular love story involving me, Nitya Menen, Isha Talwar and Madhu (a new actor). There is a hilarious confusion drama between these four characters. There is more love feel, more intensity and more entertainment in GJG than in Ishq. Last 15 minutes of the film has amazing feel. It's a romantic entertainer.
Tell us about Nitya character in this movie?
Nitya has two shades (one in first half and another in second half). Her character in this film is different from that of Ishq.
Tell us about Toliprema remix song?
I am a huge fan of Pawan Kalyan since I was a kid. I danced for the first time in my life was 'Un Dos Tres' song from Toliprema. I watched the film several times and each time I come home to dance to that song in a closed room. There is a lead scene in the film where heroine tells hero that she is going to say '3 magical words'. My father suggested Un Dos Tres beginning of the song goes well with dialogue. We used it as a lead scene the express the happiness of hero in a song. We have shot part of it in Dubai and I returned to India with viral fever. I used to keep that song in repeat mode during entire night before shoot of the song. I was having severe fever and I was dull at shooting spot. But when I was called on to perform for that song, i used to look like a highly energetic dancer. That's the magic Pawan Kalyan and that song has on me. My prime concern for this song is not to insult other Pawan Kalyan fans with bad making. We made sure that the song has become really well.
I am happy that GJG is sold out and we are in profits.
Why are you making films on your home banner?
We have very few passionate producers who spend budget based on the subject. I don't want my producers to be frugal on spending for the right scenes by keeping my market in the mind. If I am the producer, I have freedom to spend and I can take that risk.
Tell us about your other film Courier Boy Kalyan?
This film is produced by Guatam Menon and directed by Prabhudeva's protege Prem Sai. I was thrilled by the plot idea. It was never touched on Indian screen.