Story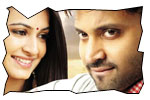 DD (Sumanth) Chinna (trinetrudu) are orphans who are brought up in an orphanage. They are very fond of Saraswatamma (Sudha) who took care of them. Saraswatamma is very good at preparing tamarind rice (pulihora). DD wants to start a pulihora center on the memory of Saraswatamma when he grows up. He needs 7 lacs for that. In order to earn the money, he joins a mafia gang. Pragati (Kriti Kharbandha) is the daughter of a billionaire politician. She is kind hearted and runs a charity organization. She comes to know that a landlord in a village has bought most of the lands forcibly from the village men. Court asks the farmers to pay 4 crores together to regain their lands. When Pragati realized that her father has gone against her wish of helping those farmers, her friend sketches a self-kidnap plan to demand 4 crores as ransom. And things go wrong when DD and Chinna kidnap her at the same time when she is supposed to be self-kidnapped. The rest of the story is all about how DD and Pragati realise their missions together.
Artists Performance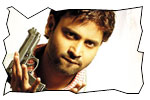 Sumanth is adequate as the main lead. His character should have been written in energetic style. Trinetrudu who did the role of Chinna has lots of footage and he surprises you with nice performance and right diction. Kriti Kharbanda is average as kind-hearted girl. Jaya Prakash Reddy's character is modelled after Paresh Rawal's character in Kshana Kshanam movie and he is ineffective. Satyam Rajesh and Naresh are funny in the roles of imbecile under-cover cops. Harsha Vardhan is good. Ahuti Prasad and Chandra Mohan are adequate.
Technical departments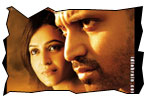 Story - screenplay - direction: The plot and orientation of the movie reminds us of Ram Gopal Varma's classic telugu mafia mixed with comedy flicks like Kshana Kshanam and Money. But the comparison stops there. Stories of such premise need arresting screenplay and engrossing narration. The script is half-baked. The characterizations should be more compassionate. There is no charm to the characterization of hero and there is no sympathy left for the heroine by the end. And when audiences don't travel with the characters in the movie, they will feel quite left out about it. There are some interesting moments like the interval episode and the fight between Sumanth and Satya Prakash. Direction of the film is not upto the mark, but the styling it good.
There are a few interesting threads that were not properly established –
1. Hero is very much attached to the caretaker and he sees her characteristics in heroine. This point should have been more strongly established.
2. Villainy – villainy is not properly established.
3. Cops connection – Harsha Vardhan (a sub-inspector) is shown as the only connect to the entire police force in the movie.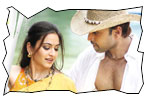 Other departments: Boni is superior in technical departments. Camerawork by Andrew is superb and color-grading is done well. The cinematography brought the much required tone to the movie. Locations in the movie deserve a special mention. Hero's house and slum locations are well exploited in the movie. Music by Ramana Gogula is good and a couple of songs are canned well. But the placement of songs in the second half should have been better. Dialogues are average. Art direction by Anand Sai is very good. Production values by Green Mangoes Cinema are good.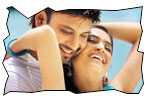 Analysis: First half of the film is adequate and second half is bad. Plus points of the movie are director's styling, cinematography and locations. Negative points are screenplay and uninspiring direction. It is always better to fail while making a different film than failing while making a routine formula film. Boni is an attempt to come up with something different. Comedy (subtle humour) should work big time in a movie like this. But it falls flat because of inexperienced moviemaking. Let us hope that the debutant producer and the debutant director will dish out more interesting films in the future.
Boni links
• Raj Pippalla interview
• Sumanth interview
• Music launch
• Title announcement
• Banner launch
• Photo gallery
• Wallpapers
• Trailers
Jeevi reviews of previous 5 films
• Kavya's Diary
• Ride
• Aa Okkadu
• Diary
• Pista
• Prayanam
• Kick
• Veedokkade
• Mitrudu
• Circus Circus
• Adhineta
• Punnam Naagu
• Ananda Tandavam
• Billa
• Bheebatsam
• Manorama
• Aakasamantha
• Sontha Vooru
• Malli Malli
• Mesthri
• Naa girlfriend baga rich
• Drona
• 16 Days
• Satyameva Jayathe
• Siddham
• Nenu Devudni
• Konchem Istam Konchem Kastam
• Shh...
• Arundhati

More Reviews