Story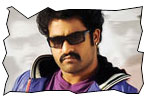 The Devaraya Vamsam has been holding the key to the safety of Maha Shakti Peethams in India. An evil man (Sonu Sood) from Egyot tries to conquer Shakti Peetams and gets killed. His vengeful wife (Pooja Bedi) raises her kids with the single mission of taking the revenge and takeover Shakti Peetams. Maha Devaraya (Prabhu) is the union home minister and his daughter is Aishwarya (Ileana). Maha Devaraya house-arrests Aishwarya as there is a threat from the Egyptians. Aishwarya goes away with her friends to Rajasthan without the knowledge of her parents. She meets Shakti (NTR) who works as a tour guide for her in Rajasthan and Jammu & Kashmir. She falls in love with him as they travel. Meanwhile, there is a precious jewel and a trident which need to be acquired and to be used by Aishwarya at Haridwar on an auspicious day. The rest of the story is all about who Shakti is and how he helps Devaraya vamsam.
Artists Performance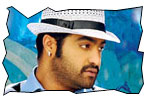 NTR has played two characters that have three dimensions. He is exceptionally good as a tour guide and extremely stylish in black suits. Though his performance is impeccable as Rudra, the get-up should have been better. NTR who is known for massive and powerful dialogue delivery in Telugu made sure that he spoke like a professional north Indian during Hindi dialogues scene.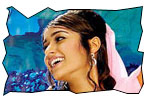 Others: Ileana looks pretty good as the girl who has no clue about what is happening around her. Sonu Sood has less presence and he looks apt. Pooja Bedi did a lengthy role as an evil woman from Egypt. Nassar did the role of a high priest and his dubbing is done by Mano. Jackie Shroff has done the role of a traitor. SP Balu and Manju Bhargavi did flashback characters. Dharmavaram and Venu Madhav have small roles. Brahmanandam did the role of Avatar - a hitech security expert.
Technical departments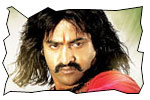 Story - screenplay - direction: Story of the movie has big span. One can notice similarities to recent blockbusters of epic nature (Pokiri, Magadheera etc) in this story line. A story of this big needs a director with tremendous experience to make it work. They should have fine-tuned the story in order to make it simple. Meher Ramesh who made sure that there is a big canvas and unlimited budget to mount this story, didn't get the emotions and screenplay right. The director has succeeded in getting the grandeur in the film with eye-feasting visuals and nice songs. But he didn't get the believability factor to the script. Though it is a fantasy subject, Egypian invading Shakti Peetams in India 27 years back (in 1984 with horses and with those traditional Egypt costumes) looks completely unrealistic. The best part in the movie is the interval bang and the director succeeded in sustaining interest in the first half. However, the orientation in the second half becomes redundant as the climax approaches. The flashback episode lacks the desired punch as it holds the key.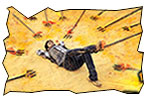 Other departments: Mani Sharma succeeds both in songs and background music. Prema desapu song deserves a special mention. Sameer Reddy comes up with an outstanding work with vibrant visuals. A major credit should go the locations as the film is extensively shot in picturesque sand dunes of Rajasthan, beautiful landscapes of Ladakh and Dubai full of sky-scrappers. Stunts by Stun Siva are mixed bag. Some of the fights are excellently choreographed (especially the interval episode) and fights involving acrobatics lacks credibility. Anand Sai comes up with nice and authentic set for the flashback episode. Art direction is of top notch quality. Editing by Marthand K Venkatesh should have been crispy. Visual effects are excellent. Producer Aswini Dutt made sure that the film is made on a gigantic scale with superb production values. James Bond kind of adventures are shown in a Telugu film in a believable manner for the first time (multiple choppers, commando operations etc). The producer has made sure that no stone is unturned to get a grand look to the movie.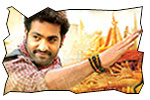 Analysis: First half of the movie is okay. The interval bang is effective. Second half should have been better. The plus points of the movie are NTR, grand production values and rich technical aspects. The negative points are screenplay, lack of simple story line (the story is too complex) and emotional quotient. On a whole, Shakti would have been good with a better execution from the director.
Shakti Links
• User reviews
• Music launch
• Photo gallery
• Wallpapers
• Trailers & videos
Jeevi reviews of previous 5 films
• Aha Naa Pellanta
• Kudirithe Kappu Coffee
• LBW
• Vastadu Naa Raju
• Gaganam
• Jai Bolo Telangana
• Ala Modalaindi
• Golkonda High School
• Anaganaga O Dheerudu
• Mirapakai
• Ragada
• Manmadha Banam
• Nagavalli
• Kathi Kantha Rao
• Manasara
• Rakta Charitra 2
• Orange
• Yemaindi Ee Vela
• Kalyanram Kathi
• Rakta Charitra 1
• Khaleja
• Robo
• Saradaga kasepu
• Komaram Puli
• Don Seenu
• Maryada Ramanna
• Jhummandi Naadam
• Vedam


More Reviews