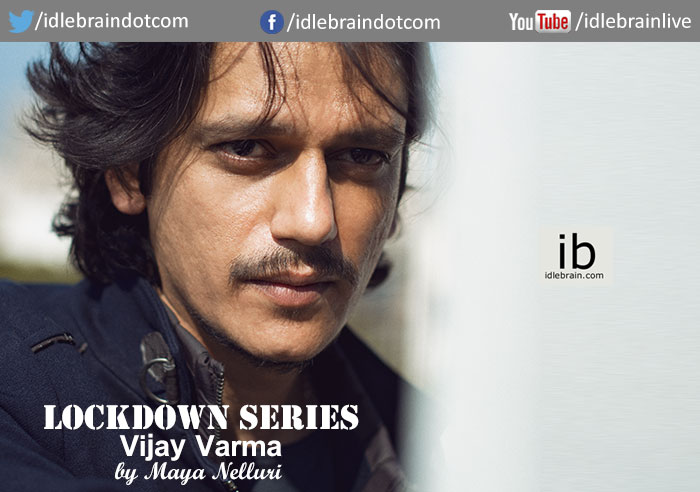 25 May 2020
Hyderabad
Hyderabad's very own Vijay Varma has been making waves across the world with his enigmatic persona and breath-taking performances. His rise to fame happened via Bollywood but you all will be interested to know that he started his acting career down South in theatre. He has even played an antagonist in Nani's Telugu feature – MCA. Let us get right into it and dig into Mr. Varma's beautiful mind.
What is it about you that has the audience smitten?
I don't know if it is a fact. *Laughs* I think the audience and you need to tell me that. Maybe there's a certain kind of believability in the moments that I create. I'm in search for the truth whether it be in the story or character. If that is found it becomes interesting. Also, I do real characters so it appeals to certain people.
You've said in interviews that you waited for the right roles - what do you look for in a role?
It kept changing but one thing has been constant. I really like certain filmmakers, storytellers, and types of stories. Those associations become a turn-on for me. Take for example, Imtiaz Ali, Anurag Kashyap, Mira Nair, Zoya Akhtar, and so many amazing filmmakers. The idea of associating myself with their stories is a turn-on. Pink was a story that needed to be told. If I have to play the ugliest character in it, then be it. Luckily I've managed to work with the people I like.
You mentioned that your family was against you choosing to act, how did you deal with it at the time?
I gave other careers and pursuits, like marketing and sales, a go. But I was terrible at them. Those options dried up so my only option was to do what I wanted to do. It was a distant dream for a person like me. I couldn't fathom or play out in my mind how I could get here. The only possibility was enrolling to act in plays. It was a coincidence of the best kind when I saw an ad in paper for FTII. When I left home I told my mom that I wanted to learn acting for two years and then I'll come back and work. But I always knew I wanted to work in Hindi cinema. After the course I moved to Bombay with a batch of about 20 other actors who graduated at the same time. I don't think I could've come directly to Mumbai from Hyderabad to be honest.
They must be very proud now!
They are. It took long while. I was in the papers earlier because I used to do plays. But when I did Pink it really gave them a lot of pride because I was working with Amitabh ji. Now my nieces and nephews are more interested in my life, they keep track of me on social media and update the rest of the family.
What were you like as a child?
I was one of those boys who was lost in his own world – not exactly aloof but I was more into reading my comics than sitting and chatting with people. I had various phases of interests like puzzles, carom board, comics, video games, and cricket. They were all-consuming activities.
You grew up in Hyderabad – how was that?
It was very easy and comfortable. I had a great loving childhood. I had amazing parents and siblings and I was the youngest child so I was really pampered. I have an older brother and sister. I lived in the old city till my fourth standard and then moved to the newer side from fifth. I went from Hindi medium to an English Catholic school so it took a couple of years for me to adjust. But there was no pressure to perform at school from my family. I come from a Marwadi family so we don't believe in school too much. I was considered the brightest child because I used to score 50-60 percent marks; I was actually celebrated in the community for it. I lived up to more than they expected education wise because usually everyone finishes tenth and then they get into business. I was actually the first graduate in my family. I didn't need to have attendance in college so I spent a lot of those four years going to pool parlours, hanging around girl's colleges, playing video games. Then I would go to a coaching centre for BCom for three months before exams and end up with 60 percent.
You've already done MCA in Telugu. Do you plan to act in South projects in the future?
Another opportunity like that didn't come by when I had dates. I did get some Telugu and Tamil offers but I was filming for other projects and couldn't take them up. I want to work with stories and story tellers. If the script and the makers excite me then I'll do it in any language.
You've studied acting, done plays; now you are doing movies and web-series – which of these do you think made you the actor you are today?
I think foundation was key. The workshops I did at Sutradhar in Hyderabad and FTII gave me the foundation to believe in myself as an actor. It gives you the confidence to work on the craft. Theatre is the purest form of learning for actors. The commitment and selflessness involved in it are so pure and so distilled. You come out of it with knowledge and depth. Stage is slightly different from film because theatre requires no corruption. The sole motivation is to go on stage and perform well. And that happens when you are absolutely true to yourself. There's no money, fame or name that cinema or web can give. Otherwise acting is more or less same on any medium.
You are locked down alone from what we can see on Instagram – if you could choose, who would you want to be locked down with?
I can't choose a certain person or people because that's wishful thinking. But hypothetically I'd pick my friends because we could play cards, poker, video games. My kitchen abilities are next to zero so it would've been nice to have someone take care of that and I could've done other work like cleaning.
Did you have any realisations during this time?
We've all been introspective during this time. The biggest realisation I've had is that I always felt I was a private person but it seems I really like to be around people. I'm looking forward to spending time with people once this is over. I'd like to sit down and chat about whatever I've been reading and watching.
Also, I was part of a spiritual pursuit with a teacher and a group for about nine years. I stopped a little while before the lockdown because I got very busy post Gully Boy. I'm now able to get back to it; I've been reading up on psychology and philosophy. I'd like to make myself richer with knowledge and wisdom.
What are you looking forward to for the rest of 2020?
I feel like shoots won't happen anytime soon so I'll have a lot of time. I'd like to use the time enriching myself. I might move somewhere like Goa or Shillong for a couple of months. Work isn't keeping me in the city so might as well travel.
- Maya Nelluri