Athadu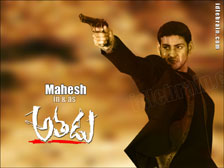 I watched the movie yesterday and I wanted to pen my opinion on the movie. First let me start with the negative points and then come to the positive points. There are some scenes in the movie that I felt lacked clarity ,some scenes didn't bring up the emotion that they were intended for ,some scenes which weren't necessary and fights which were not up to the mark. Firstly let me talk about the scenes that lacked clarity. A boy is shown in the first shot of the film where he is serving tea and suddenly he takes a gun and shoots the person in the car , and through out the film there is no answer for why the boy did that . I didn't quite get why the villain Malli(Mr.Sonu sood) is still in the state and that too in a church as if he is waiting for the hero to come and kill him. He has 2 1/2 crores he could have escaped to a different country by that time but he is still in the same state .
Secondly, the dialogues , though there are some excellent dialogues , there are few scenes which didn't have good dialogues . The dialogues for comedy scenes are great , but the dialogues for emotional scenes couldn't bring up the emotion needed. Like for example the scene where Mrs.Sudha tries to feed Mr.Mahesh , I felt that dialogues should've been more touchy as it shows the bond formed between the family and Mr.Mahesh ,I felt that the dialogues have not been up to the mark. Secondly the dialogues where in Mr.Mahesh tries to explain the reason for he being in their home in the disguise of Parthu. The scene following it where in Mr.Nazar takes him to his room and says that"vallantha ninnu rakaraka prashnalu adigaru , nenu okate aduguthanu" , but he instead asks all the 5 to 6 questions that others asked him in a single question and later he only answers it .Not so great scene. The scene where in Mr.Mahesh proposes to Miss Trisha , I felt that the dialogues could've been more romantic , and also suddenly Mr. Mahesh's room and Miss Trisha's room are side by side ,so that Mr. Mahesh can propose to Miss Trisha. Too filmy.
Thirdly, there have been some scenes which I felt irrelevant like the climax part where in there are lots of balloons in the house . Don't you think its funny because its a traditional family , traditional house and I expected to see garlands of flowers hanging all over the place to make it look like a very traditional ceremony , instead suddenly balloons show up and I think it doesn't fit appropriately in the film. I guess the director wanted to show something different and ended up in balloons , but I guess if the scene was shot in a traditional way with garlands it would've looked beautiful.
Finally ,coming to fights ,In the climax fight we see so many police officers shooting Mr.Mahesh just within few yards of distance and even then he escapes their guns , specially in one scene where in around two to three police officers try to shoot Mr.Mahesh and he is running in front of them just within 2 yards or so and even then he escapes, isn't it too filmy. Come on they are after all police officers they are taught how to shoot. Even the fight with Mr.Bramhaji , its clearly visible in the scenes that there are fighters waiting for Mr.Mahesh to finish of with the person he is beating so that they can charge upon him. Isn't that a bit filmy no one in real world would do that everyone will charge upon the person at the same time.Whats the point in Mr.Bramhaji bringing 20-30 fighters where only one of them is attacking the hero and others are waiting for the person to be done so that they can go next?
Now let me talk about the positive sides of the movie. Mr.Mahesh was extremely handsome and delivered a superb performance in the movie. The dialogue where in Miss Trisha hugs him and says "Nenu vastha" and Mr.Mahesh replies by saying "Nene vastha" , was excellent .He said so much in just one line . The scene where he tries to help the Pujari by giving him money is also very touchy. The scene where Mr.Mahesh says to Miss Trisha that she isn't beautiful is also very good. The scenes involving Mr. Bramhanandam are excellent, especially the one where he falls out of the window . He once again proved that he is one of the best comedians we have .Mr.Sunil is great as usual. Some songs are picturised well.
On the whole its a good movie .I enjoyed it despite some of the negative points. I wish Mr.Trivikram and Mr.Mahesh all the best in their future projects and hopefully we get to see movies with 100% perfection.I would also like to thank Idlebrain for giving me this chance of penning my opinion.
More My Movie experiences:
Shyam Krishna - Iqbal
Purnesh - Grahanam
Sudhindra - Super
Vijay - Aparichitudu
Madhav - Aparichitudu
Hazaraon Kwaishein Aisi
Swades
Shyam - Black
Sai - Anand
Rohit - Anand & Veer Zaara
Jaya Prakash - 7GBC
Raj - Anand
Purnesh - Anand
Purnesh - The Village
Sriram - Gudumba Shankar
Purnesh - Gharshana
Purnesh - Lakshya
Purnesh - Yuva
Leenesh - Yuva
Kis - Lakshmi Narasimha
Indian Pride - Tagore
Raj - Boys
Phani - Gangotri
Phani - Khadgam
Vikram - CKR
BKR - Indra (Singapore)
Ram - Indra (Dubai)
Ranjeet - Idiot
Rahul - Indra
King Koduri - Indra
Srilakshmi Katragadda - Mitr: My Friend