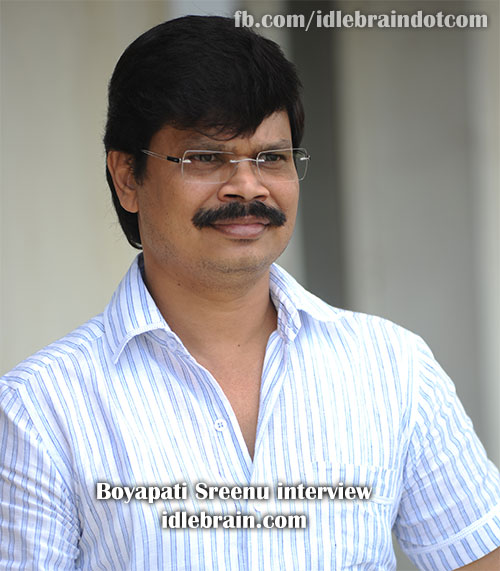 25 April 2013
Hyderabad
Boyapati Sreenu is a man of humility with down-to-earth attitude. He has mass orientation in his films and has 75% success rate in movies. Simha film gave him a big break and he has become a darling of Nandamuri fans with Simha movie. He is going to direct Bala Krishna's next film which is due for the release before 2014 elections. Today (25 April) is his birthday and here is the interview with idlebrain.com –
Background:
I belong to Peda Kakani which is in the outskirts of Guntur. I did my graduation in JKC College in Guntur and post-graduation in Nagarjuna University. We have a photo studio and it was our business. I was interested in photography. I have also worked as a part-time reporter for Eenadu newspaper. I was planning to start a small scale industry in Guntur's Auto Nagar. That is when my cousin Posani Krishna Murali suggested me to join films. I came to Hyderabad with him and he made me join in the direction department of Muthyala Subbaiah in 1997. I worked with him for films like Oka Chinna Maata, Gokulamlo Seetha, Pelli Chesukundam, Pavitra Prema, Annayya and Manasunna Maaraju.
Then I have prepared the story of Bhadra. After the release of Gangotri, I approached Allu Arvind to narrate Bhadra story by keeping Bunny as hero. I know Allu Arvind well because I have worked for Annayya. He liked the story, but told me that Bunny was doing Arya film. He made Bunny to listen to the story. Bunny liked it and he directly took me to Dil Raju. He made me narrate Bhadra story to Dil Raju and made Dil Raju give advance to me right away. We had initially considered Prabhas as hero. But Prabhas's dates were locked for Chakram film for 8 months. That is when Ravi Teja got in. That film was made in a moderate budget of 5/6 crores and it ended up earning over 20 crores.
I had a gap of 1 and half years after Bhadra. Venky called me and asked me for an interesting script. He suggested the premise of wife-husband separation and loser husband proving his mettle. I had a script that matches his requirement. I narrated Tulasi story and Suresh Babu accepted it. He insisted Paruchuri Brothers for dialogues and I accepted it. Tulasi was made on a budget of 10 crores and made over 25 crores.
After two years, I got a call from Bala Krishna and I was in Vijayawada. I met him after 2 days and asked him to give me some time to prepare story. I took 15 days to come up with the story line. We had taken uttermost care about the elder get-up. I didn't want any make up for that get-up except for a bit on Vaseline on lips. We shot the younger Bala Krishna role related scenes first. Then shot the elder character. Later on we shot songs so that Bala Krishna gets a glowing look on his face after removal of elder-getup beard. Simha was made with a budget of 18 crores and you all know how big that hit was.
Why didn't Dhammu do the way we expected?
Dhammu film had the potential and all ingredients in right proportions to work at box office. But certain outside factors worked against the film.
You are a bug budgeted director. How do you control your budget?
I always make sure that my films never cross 1.5 lac of raw film. It used to cost around 3 lacs for a big budget film per day as expenses. Since the expenses have gone up, it costs around 7 to 9 lacs per day for big cinema as daily production cost. Hence it has become extremely important to work on writing table. We should also make sure that no scenes should be shot just as a backup. If you control what you shoot, you can save upto 8 lacs a working day. By keeping the number of working days minimal, we can control budget and thereby helping the producer in a big way. I was a responsible director and I will remain as producer-oriented director in the future too.
Why aren't our big director using digital cameras?
I use digital camera as a second camera only when situation demands while shooting for action episodes. You may tell that huge Hollywood films are made using digital cameras. I personally feel that shooting in India requires a lot more talent than shooting in place like USA because of the climate. If you observe any city in USA, it has a consistent temperature and feel throughout the day. In India, we have different temperatures at different times. You have one kind of lighting in the morning 6-7 and another king of lighting during 7 am – 9 am. There are 5/6 type of lighting in a single day. If we shoot outdoors, we need to keep all these changing climate and temperature in mind. I feel that cinematographers of India are far more efficient that cinematographers from west for the same reason. The ability to handle different temperatures, adjust to different lighting and getting the same feel in the output.

We can't have digital camera for the entire film for big budgeted films yet in India.
Tell us about your next film with Bala Krishna?
My next film will be produced by 14 Reels banner and it will star Bala Krishna in a powerful role. The subject will have a family orientation and social responsibility. It will be liked by families and the character of Bala Krishna will be the way Bala Krishna fans want to see it. This film will be launched in the month of May. Shooting will start in May/June. I will complete the film and give the final product to the producers in January 2014. They will plan the release at the right time.
Can we expect some political dialogues that are aimed at non-TDP parties?
It will be a powerful film. We don't have to criticize others to show our superiority. It will be a good film on its own merit.
What will be the backdrop for Bala Krishna's film?
I had palnadu, rayalseema, bobbili and Warangal as backdrops for Badra, Tulasi, Simha and Dhammu respectively. The backdrop for Bala Krishna's film will be different. If we take village subject, then there can be several conflict points as village men help each other out. If we take urban subject, its difficult to get a conflict point as it's apartments and gated community culture here. You need to wait for some more time to get to know more about this movie. But I can confidently say that it will be a different backdrop and different outlook for Bala Krishna.
Its been almost 16 years since you entered the industry. The technology has changed and audiences have changed. What makes film work?
I love giving the example of K3G (Kabhi Kushi Kabhi Gham). This film is supposed to be a sentimental film. It collected 150 crores at that time when ticket price used to be 20-30/- rupees. What works for any film in India is the emotion. If we make audiences emotionally connect with our films, it will be a hit. I make sure that emotion is there in all my movies.
Your appearance in beginning of your films and your domination in working stills and making videos make you look like a director who wants publicity. What's your take on it?
It started with Simha film. It was editor Kotagiri Venkateswara Rao who suggested it and it worked for the film. I start off the film with 'action' and end the film with 'cut'. I did it for emotional drive. We repeated the same for Dhammu. But there is a lot of gap between hero's entrance after I said action.
There were rumors that you were going to direct Ram Charan?
Yes. It's on the cards. I was supposed to do one with Ram Charan after Simha. But it got delayed. My film with Ram Charan will start after this film is released. The story for Ram Charan film is going to be a love story.