Story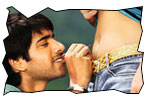 Sushant (Sushant) joins a college in Hyderabad and finds his classmate Sneha (Sneha Ullal) to be enchanting. He falls for her and makers her fall in love with him. Sneha is a proper girl with good planning. Sushant is an irresponsible guy who doesn't plan anything. Their attitudes and ways of looking at life are different and it causes a rift between them. The rest of the story is all about how these parted love birds reunite.
Artists Performance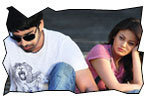 Sushant has improved a lot compared to his debut movie. His dialogue delivery got better. You can see him imitating his uncle Nagarjuna in certain scenes. His dances are better. He is alright in casual scenes, but need to work more on his expressions in pathos and love scenes. Sneha Ullal seems to have put on weight compared to her earlier outings. It is extremely important for her to look lean and mean in order to click and survive in Telugu film industry in long run. Charan Raj is adequate. Vennela Kishore has done a comedy role without make-up. Raghubabu gives a lot of comic relief. Brahmanandam is repetitive with loud and old-fashioned comedy. Sudha and Tanikella Bharani are routine. Shakeela did a brief role of the head of a prostitution house. Shafi did a comic role.
Technical departments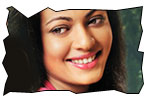 Story - screenplay - direction: After the success of Kushi, lots of films came in Telugu where there are no villains, but the love between the lovers itself become the main conflict point. But it is extremely difficult to narrate such stories. One has to be enormously skilful in showing tender feelings and nuances of love while directing this kind of movie. The debutant director Surya Pratap comes up with an incomplete job. The director has shown some promise in the first half in the park scene, kids episode and hero's style of closing his eyes to detect where the sound is coming from, but could not come up with interesting narration in second half which became a boring enterprise due to bad screenplay. The climax shot in railway station is clichéd.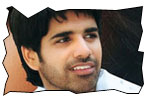 Other departments: Music of Devi Sri Prasad is a big asset to the film. Since Devi Sri Prasad scored music for this movie after a long time (his past two releases were Jalsa and King), the tunes sounded fresh. The title song is shot well. Cinematography by Vijay C Kumar is alright. Dialogues are ok. Editing is adequate.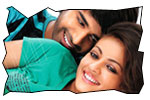 Analysis: First half of the film is just ok. Second half is boring. The selection of the subject is tricky. If it is not properly directed, a film of this nature will tend to become a boring enterprise because it doesn't have any commercial cushioning. Though director tried to use Brahmanandam to do a rescue act in the second half, it didn't work. On a whole, Current is a low-voltage film.
Current links
• Sushant interview
• Music launch
• Trailer launch
• Press meet
• Photo gallery
• Wallpapers
• Trailers
Jeevi reviews of previous 5 films
• Boni
• Kavya's Diary
• Ride
• Aa Okkadu
• Diary
• Pista
• Prayanam
• Kick
• Veedokkade
• Mitrudu
• Circus Circus
• Adhineta
• Punnam Naagu
• Ananda Tandavam
• Billa
• Bheebatsam
• Manorama
• Aakasamantha
• Sontha Vooru
• Malli Malli
• Mesthri
• Naa girlfriend baga rich
• Drona
• 16 Days
• Satyameva Jayathe
• Siddham
• Nenu Devudni
• Konchem Istam Konchem Kastam
• Shh...
• Arundhati

More Reviews