Story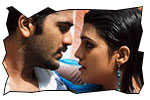 Chakravarthy (Mohan Babu) and Kalyan (Sharwanand) are brothers. Chakravarthy is a noble and hardworking business magnate. Kalyan is an irresponsible brat who doesn't even care if a person is killed because of him. Kalyan loves Sneha (Surveen Chawla) at the first sight and irritates her though she tells him that she doesn't love him. In the process, Kalyan inadvertently kills the father of Sneha. And Sneha seeks the entire property of Chakravarthy to withdraw police complaint against kalyan. The rest of the story is about how Kalyan learns about life and responsibility from Chakravarthy and wins everybody's heart.
Artists Performance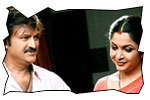 Mohan Babu did the role of a righteous brother who sacrifices everything to change the attitude of his brother. He is extremely good in emotional and sentimental scenes. Sharwanand seems to have a liking for characters with negative shades. After Vennela, he did another character that has gray shades. He is pretty good. Hindi small screen actress Surveen Chawla made her debut on Telugu big screen with this movie. She is good at acting, but she doesn't have the features and body language to suit that of a Telugu girl. Savita Reddy's dubbing is also not fluent for her. Tashu Kaushik fits the bill as a glamour doll. Ramya Krishna is excellent as vadina. Jaya Prakash Reddy is ineffective as villain because of poor characterization. The comedy by Brahmanandam and Sunil is stale. Jayasudha did a special character in the movie and she is good as usual. Deceased actress Bhargavi played a role in this movie.
Technical departments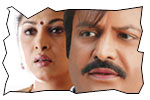 Story - screenplay - direction: A part of the story reminds us of Bollywood flick Waqt: The race against time (2005). The main story of the film is about how a righteous elder brother sacrifices everything in order to make his irresponsible kid brother realise the importance of being responsible and accountable in life. As the story suggests, this film is laden with sentiment and emotions. The entire first half of the movie is devoted to show the negative side of Sharwanand and hence it is unappealing. The second half shows how Sharwanand becomes a good kid, but the director has chosen to show the heroine in wrong shades. The director is good in sentimental scenes, but couldn't prepare the story and screenplay in a way that appeals to everybody. The characterization of hero is terribly wrong in the first half. There is a difference between young brat with mischief and a guy like Manohar who killed Sri Lakshmi. Sharwanand's character in the first half is like that of Manohar. Telugu movie lovers cannot see such characters as heroes in films though he is reformed in the second half.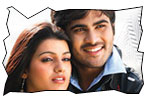 Other departments: Music by Chakri is mediocre. Background music by KM Radha Krishnan is ok. Dialogues are adequate. Cinematography is fair. The producer seems have taken abundant time for postproduction and it reflects well in the output. The production values of the new producer Kumaraswamy are decent.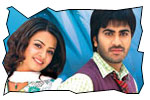 Analysis: First half of the film is unappealing and slow. Second half is better with adequate sentiment. The plus points of the movie are Mohan Babu and sentiment. The negative points are showing hero in bad light in first half and heroine in bad light in the second half. Though the film has it's share of glaring flaws, it still has some potential to do well in B and C centers due to the sentiment and family orientation.
Raju Maharaju links
• Music launch
• Photo gallery
• On the sets
• Wallpapers
• Trailers
Jeevi reviews of previous 5 films
• Boni
• Kavya's Diary
• Ride
• Aa Okkadu
• Diary
• Pista
• Prayanam
• Kick
• Veedokkade
• Mitrudu
• Circus Circus
• Adhineta
• Punnam Naagu
• Ananda Tandavam
• Billa
• Bheebatsam
• Manorama
• Aakasamantha
• Sontha Vooru
• Malli Malli
• Mesthri
• Naa girlfriend baga rich
• Drona
• 16 Days
• Satyameva Jayathe
• Siddham
• Nenu Devudni
• Konchem Istam Konchem Kastam
• Shh...
• Arundhati

More Reviews