Story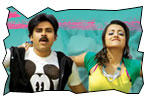 Michael Velayudham (Pawan Kalyan) is a chef specialized in Italian cuisine in Cape Town. He falls in love with Meera Sasthri (Trisha) - another Indian staying in Cape Town. Meera is a restoration specialist and she is moving to India. Since it is not possible to continue the relationship across the seas, they bid good bye to each other. Michael finds a local white girl (Danah) in Cape Town and Meera finds a local politician (Sonu Sood) back in India. The rest of the story is all about how their true love unites them despite them being so casual about their relationship. There is also another story dealing with Arjun Palwai (Pawan Kalyan) that runs parallel with a time difference of 30 years in Waranasi.
Artists Performance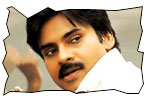 Pawan Kalyan: The name of Pawan Kalyan is synonymous with passion, honesty and novelty. He made sure that he lives up to his reputation by playing two contrastingly different characters of Michael Velayudham (A Telugu guy with Tamil roots staying in South Africa) and Arjun Palwai (An honest and sincere lover 30 years back). The characterization and body language of Pawan Kalyan for Michael character reminded me of Kevin Kline (French Kiss). It became more evident with him speaking in foreign language and the heroine becoming excited whenever she listens to his foreign accent (The pair of Kevin Kline and Jamie Lee Curtis in 'A Fish Called Wanda'). Pawan Kalyan who has always been highly reserved with heroines in his previous films seems to have come out of the shell to do a lip-lock with Trisha. His performance is excellent in the scene with Trisha during her marriage. He tried different steps for each of the songs. I loved the title song that comes in the second half. I also liked his variety steps in the second song.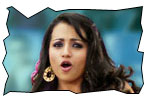 Others: Trisha is cute as always. Kriti Karbandha did the role of lady love in the flashback episode. Though she looks pretty good, her hair-do and make-up didn't appear natural. Australian girl Danah has done the role of hero's girlfriend. Paresh Rawal is fine as a restaurant owner and story narrator. Ali entertains in a small cameo as a taxi driver. Sonu Sood is apt as a gentleman. Mukesh Rushi, Sudha, Tanikella Bharani etc are okay.
Technical departments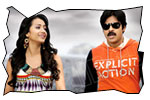 Story - screenplay - direction: This movie is the remake of Bollywood blockbuster Love Aaaj Ka (click here for jeevi review)l. Love Aaj Kal worked mainly on screenplay and conversations (dialogues). It is a kind of story, if not dealt well - the entire narration will become confusing and uninteresting. In the original, Rishi Kapoor tells his own story where as in this film Paresh Rawal tells the story of a 3rd person. Direction by Jayant is partly okay. The narration and pacing of the two stories should have been smoother.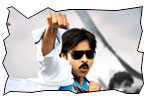 Other departments: Trivikram's dialogues form the major highlight of the movie. There are many punch dialogues (antha chinna nadumu intha baruvu ela mostundi) as well as meaningful ones (baledani ammani, kopamga vuntadu ani nannani marchalemu kada). Songs scored by Mani Sharma are good. However, the re-recording could have been better. The spot dubbing done for Pawan Kalyan affects the audibility of dialogues. Cinematography by veteran Jayanan Vincent is fine. Art direction is alright. Editing should have been better.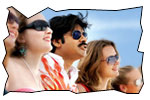 Analysis: First half of the movie is alright. The graph goes down in the second half. It picks up 20 minutes before the end (after resignation episode). Terrific work by Pawan Kalyan and superb dialogues penned by Trivikram are the life lines for this movie. However, the screenplay and the narration of the movie is patchy and there is no completeness in it. The people who had seen Love Aaj Kal need to tame their expectations and the urbane crowds who haven't seen LAK might find this movie entertaining. We have to wait and see if Pawan Kalyan is going to repeat the magic of Jalsa at the box office or not.
Teen Maar Links
• User reviews
• Music launch
• Photo gallery
• Wallpapers
• Trailers & videos
Jeevi reviews of previous 5 films
• Shakti
• Aha Naa Pellanta
• Kudirithe Kappu Coffee
• LBW
• Vastadu Naa Raju
• Gaganam
• Jai Bolo Telangana
• Ala Modalaindi
• Golkonda High School
• Anaganaga O Dheerudu
• Mirapakai
• Ragada
• Manmadha Banam
• Nagavalli
• Kathi Kantha Rao
• Manasara
• Rakta Charitra 2
• Orange
• Yemaindi Ee Vela
• Kalyanram Kathi
• Rakta Charitra 1
• Khaleja
• Robo
• Saradaga kasepu
• Komaram Puli
• Don Seenu
• Maryada Ramanna
• Jhummandi Naadam
• Vedam


More Reviews