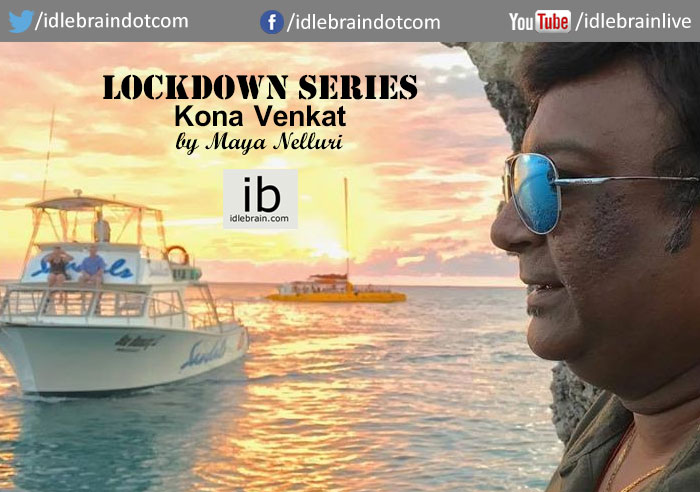 26 May 2020
Hyderabad
Kona Venkat, Tollywood's popular writer, director, producer, lyricist and actor answers 5 quick questions regarding his experiences during the Covid-19 lockdown.
Any new skills you've picked up during lockdown?
Before lockdown I couldn't even make tea but now I'm almost a professional cook. I've made pickles, sambar, curries, fried rice, many different items. I didn't realise I had any cooking skills earlier. Tomorrow even if things get worse, the lockdown has prepared us and taught us survival skills.
What do you want to do as soon as lockdown is over?
Generally I have a lot of friends. We used to meet daily and now we haven't been able to see each other in weeks. The first thing we will do is to meet or once the fear psychosis is over we will go to some holiday destination.
What were the best moments of your lockdown?
The day the lockdown started we formed a group of 22 people with Puri's close friends on WhatsApp called iSmart22. Charmme actually named it. It includes people from different backgrounds like doctors, technicians, writers, directors. Puri is in Bombay right now and the rest are in different parts of the world. In the last 40 days we've been in touch through it, exchanging useful info regarding films and series we've been watching and various things. Every day we interact with each other for almost 2-3 hours so it kept me occupied. It's been a major positive aspect of my lockdown. During Puri's 20 years of film industry celebration, we picked up dialogues from movies, enacted them, edited them into a video and posted them
Is there anything you didn't have during the lockdown and wish you stocked it?
Except friends I didn't miss anything.
What did you realised during the lockdown?
It's given us all time to stop and think, evaluate and redesign our lives. What's the good and the bad we've done - whether it be in terms of health, life, and career and so forth.
- Maya Nelluri