Bangaram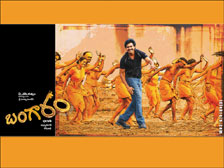 My Lifetime Experience
I see papers flying all around. I hear deafening whistles all over the place. A man in the front row gets on to his chair; so I jump atop my chair.
"We love you Powerstar!!!" I scream.
I see Ravi staring at me disbelievingly. Two beds away, Badri looks at me open mouthed.
I realize my throat is soar.
**********************************
I see people shuffling in their seats. The man to my right yawns unapologetically. A few moments later, I see people leaving the place.
"Please Sir! Please sit. Another 5 mins and the movie would be good," I beg.
Another ten minutes lug along and I realize I am the only one left in the theatre.
I wake up with a cry trapped in my throat.
*********************************
Dreams like that were the commonest to haunt me, till Bangaram's release. I swear to God they were.
If you love someone, it's not uncommon to miss him or her when he/she is not around. When I miss my mother, I go visit her; my friend – I call her and talk; my lover – I pack my bags and see her over the weekend. But if I miss Pawan, the man whom I idolize, there's nothing I can do other than waiting for his next movie release. After all, he's not my brother, not my relative, not even my friend.
Anyways, that's what I did – wait & wait for Bangaram after Balu bid goodbye to Bangalore for good. Of course, I grew an year older awaiting the miracle. Miracle - only, solely and wholly because it stars a star in true sense, Pawan Kalyan.
On the 13th of March, when I first heard the audio of Bangaram, I almost saw him – saw his amused smile, his swaggering walk and his graceful dances. Photos from the movie flooded the websites and I was a happy soul. A new pic of Pawan and I had a reason to smile. Another superb still and my day were made. My roommates were bored of Bangaram news and my desktop was tired of hosting Pawan's wallpapers.
The movie release date was soon announced and my joy conquered new heights. Greed took charge of me as I decided to watch the fans show. I called it greed because I never dreamt of watching one. The reason was pretty simple – I never managed to get a ticket.
But this time it was almost sure I would make it to the show. "Forget about tickets. You are watching the show" promised Srikanth over phone. Weren't those the sweetest English words I'd ever heard??
I practically ditched my Project Manager and started to Hyderabad to be one among the first to watch Him on screen. That night, in the bus, no dreams haunted me. How could one dream without the hint of a sleep??
It was almost a red carpet welcome as Hyderabad greeted me with Bangaram's posters stuck to its heart. My friends and their bikes were ready at the bus stand, only to zoom to the Sandhya theatre, RTC-X-Roads.
We were a bunch of hyperactive lot as we screamed 'Powerstar! Powerstar' all along the way. A kilometer to go when we heard them, our brethren, in the form of bass and trumpet music sailing along with the wind. We neither knew nor dared to know how much time we took to reach the theatre from then on.
And I only remember flashes of incidents from the moment we reached the theatre. My memory of the happenings inside the theatre is amazingly vivid in stretches, as if I had gotten drunk during the whole episode. Mostly I remember this: my heart thudding to the earsplitting music being played by a band; our brethren, co-Pawan Kalyan fans, scores and scores of them, dancing wildly to the melee of drums; a huge cut-out of Pawan Kalyan being erected; paper pieces soaring all over the place; crackers being lit under my legs, their thunderous sounds failing to pierce my ears; me getting lost in the mob, dancing and dancing to the tunes of the band; screaming 'Powerstar zindabad' along with a group of total strangers; me collecting tickets from a guy and entering the theatre; clapping to Pawan's intro; laughing to the scores of comedy scenes; roaring to his outstanding fights; whistling to all the powerful dialogs;
Hopping and romping through out the 'Raa Raa Bangaram' song;
The silliest part of the whole episode was laughing when I was getting beaten by a traffic constable for blocking the road opposite the theatre. If not for Pawan, I would have either killed the guy or gotten myself killed. With my figure I can never dream of killing a guy so I would have rather done the latter. Of course, with my gut-levels, I can never kill myself either, so I'd probably have cried.
Anyways, after the fans show that morning, I managed to watch the matinee too. It was after I came out of the matinee show in the evening that I experienced a familiar sensation – hunger. It was when I realized I last ate the previous day. In other words - Except happiness, I never experienced another emotion or sensation for a whole day.
Need I say my year and a half wait was worth it?? Should I say my Bangaram gifted me with a lifetime experience??
Truly,
Sarat Chandra.
[email protected]

More My Movie experiences:
Bala - Pokiri
Srinadh - Allari Pidugu
Sudheer Allari Pidugu
Anu - Athadu
Shyam Krishna - Iqbal
Purnesh - Grahanam
Sudhindra - Super
Vijay - Aparichitudu
Madhav - Aparichitudu
Hazaraon Kwaishein Aisi
Swades
Shyam - Black
Sai - Anand
Rohit - Anand & Veer Zaara
Jaya Prakash - 7GBC
Raj - Anand
Purnesh - Anand
Purnesh - The Village
Sriram - Gudumba Shankar
Purnesh - Gharshana
Purnesh - Lakshya
Purnesh - Yuva
Leenesh - Yuva
Kis - Lakshmi Narasimha
Indian Pride - Tagore
Raj - Boys
Phani - Gangotri
Phani - Khadgam
Vikram - CKR
BKR - Indra (Singapore)
Ram - Indra (Dubai)
Ranjeet - Idiot
Rahul - Indra
King Koduri - Indra
Srilakshmi Katragadda - Mitr: My Friend