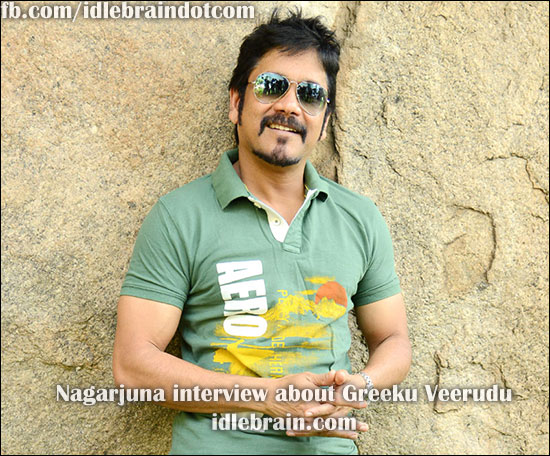 1 May 2013
Hyderabad
Nagarjuna comes up with a stunning look for his 3rd May release Greeku Veerudu. He talks about the film and how he arrived at the look -
Releasing on 1st Indian film Satya Harischandra's date
It's just a coincidence that Greeku Veerudu is releasing on 3rd May which happens to be the day of Raja Harishchandra film release which is the first Indian film. Indian film industry completes 100 years on May 3rd. We had planned to release Greeku Veerudu in March month and it got postponed to release on 3rd May.
Greeku Veerudu character
Greeku Veerudu film is a feel good film in the genre of Santosham, Manmadhudu and Mr Perfect. It's a romantic comedy with nice emotions. My characterization is new and has a bit of negative shades. Hero of the film feels that love is a pain in any kind of relationship. He is shrewd, selfish and a cutthroat businessman.
Your new look made a big news. How did you arrive at this Greeku Veerudu look?
I should thank Shirdi Sai film. I had to tonsure my head for Shirdi Sai. My stylish Sachin Dakoji (Manea Salon) has helped me in getting the right look. I have used three Hollywood actors as references.
1. Orlando Bloom (Pirates of Caribbean)
2. Brad Pitt
3. Robert Downey Jr. (Iron Man)
I have a jawline that is very similar to that of these actors. We have done a bit of research, googled for images and finally settled on the look you see in Greeku Veerudu. I am happy with the kind of compliments I have got.
How did you manage two different looks for Greeku Veerudu and Bhai as are you are doing them simultaneously?
I had to take a gap of 15 days between Greeku Veerudu and Bhai schedules in order to groom my beard.
Don't you think comedy has become the selling point these days?
Yes. Earlier it used to be action film that is supposed to be a safe bit. Now comedy is the safe bet. Audiences who are tired of daily life want to come to theater and relax by laughing.
Whats your observations of director Dasaradh?
Dasaradh came to me to narrate the story of Santosham. He was not the director of the film. I liked it so much that I suggested that he should direct it. He was low on confidence as he didn't work in direction department earlier. I told him that S Gopal Reddy will help him out with filmmaking. He did a test shoot assess his capabilities. He came to me after a week and told that he was willing to direct. He was a quick learner and he understood the practical aspect of direction in no time. Now he is a matured filmmaker.
Rumors about joining politics
When NTR started TDP, there was immense pressure on my father. Lot of politicians used to meet my dad to force him into politics. My father was against to join politics and he firmly rejected all offers. I have no intention to join politics. I plan to go for a holiday two months before 2014 elections and come back only after the results are announced.
Tell us about Manam film?
It's a fantastic film and will go to floors soon.