Bommarillu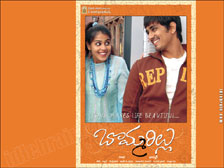 Dear Bommarillu Team,
This is Vasu from Kadapa writing to Bommarillu Team about the movie. Let me thank jeevi first who made me to go and watch a movie in theatre after 15 months. Earlier I was very fond of going to theatres and watching movies. After watching one movie (don't want to name the movie) I have decided not to watch movies. I use to see jeevi review for each and every film. After a long time I saw jeevi giving 4.5 rating to "Bommarillu". I trust in jeevi and my trust has not gone wrong. I went to theatre after such a long gap only because of that 4.5 rating. I am very happy to see such a movie, that too in telugu. After tholiprema, this movie has impressed me a lot.
The first one who I want to appreciate is Director Bhaskar. He is excellent. He is more talented than the word talent. The taking of the film, story, and all the technical departments are excellent only because Bhaskar gave the breath to the film. Directing an assistan director worked with Mani Ratnam is not a small task. I saw very few directors who take risk in balancing great actors in a single film. But in this film bhaskar has balanced equilibrium in exploring the already existing electrifying acting skills of Prakash Raj and Kota.
I don't have any words to appreciate prakash raj for giving such an entertainment for the audience. Kota's action in the song "nammaku tappadu", dialogues before slapping genelia is a master piece for kota's action. After SVR, Rao Gopal Rao, there are only 2 artists who can act like them. They are Kota and Prakash Raj.
Coming to siddhardh and Genelia. Siddhardh is a kind of actor who reminded me the action of Chiru in "Abhilasha/Rudraveena" and Venkatesh in "Kalisundam ra". He is a great actor. As an Assistant Director to legendary Mani Ratnam he can involve in direction of the movie. He has not done so because of his respect towards the other directors. I wondered whether genelia could do this type of Acton also. Compared with her other movies her action in this film is totally different and superb.
Music by Devisriprasad is one of the biggest assets for the movie.
I thank Dil Raju garu for giving a definition of good movie in the form of "Bommarillu". Sir, we expect and respect movies like "Bommarillu" in future too.
With openness I am saying that I cannot watch this movie again because I cannot get involved in the movie second time as I had during first time.
I trust that "Bommarillu" will grab all the awards if no lobbying is made.
I wish all the best to one and all of Bommarillu.
Vasudev.M
[email protected]
More My Movie experiences:
Bommarillu - Roopa
Sriram - Godavari
Sarath - Bangaram
Bala - Pokiri
Srinadh - Allari Pidugu
Sudheer Allari Pidugu
Anu - Athadu
Shyam Krishna - Iqbal
Purnesh - Grahanam
Sudhindra - Super
Vijay - Aparichitudu
Madhav - Aparichitudu
Hazaraon Kwaishein Aisi
Swades
Shyam - Black
Sai - Anand
Rohit - Anand & Veer Zaara
Jaya Prakash - 7GBC
Raj - Anand
Purnesh - Anand
Purnesh - The Village
Sriram - Gudumba Shankar
Purnesh - Gharshana
Purnesh - Lakshya
Purnesh - Yuva
Leenesh - Yuva
Kis - Lakshmi Narasimha
Indian Pride - Tagore
Raj - Boys
Phani - Gangotri
Phani - Khadgam
Vikram - CKR
BKR - Indra (Singapore)
Ram - Indra (Dubai)
Ranjeet - Idiot
Rahul - Indra
King Koduri - Indra
Srilakshmi Katragadda - Mitr: My Friend