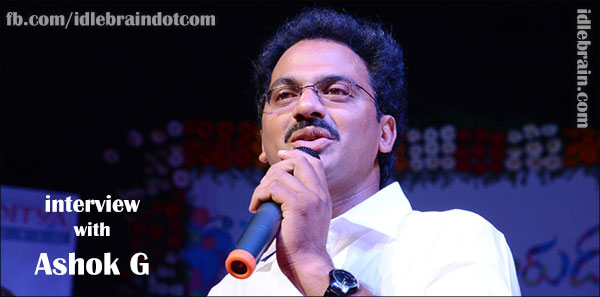 9 May 2013
Hyderabad
Ashok G has travelled a long way after doing a child character in T Krishna's Repati Pourulu. He has joined Telugu film industry as a dance assistant in 1997 and delivered a commercial hit as a director with Pilla Zamindar in 2011. His latest film Sukumarudu is releasing on 10 May 2013. Here are the excepts of idlebrain.com exclusive interview -
Background
I am from Ongole. I am a classical dancer and I am good at 13 various Indian classical dances. T Krishna cast me in Repati Pourulu when I was 6 years old. Later, I have worked as a child artist for 15 films. I made my debut as dance assistant in 1997 and worked for over 300 songs as choreographer and dance assistant. I have worked under dance masters like DKS Babu, Swarnalatha, Lawrence and Raju Sundaram. I have worked for films like Master, Annamayya, Pelli, Osey Ramulamma and Jeans to name a few. I can proudly say that my involvement was there in 'Priya Nammodde' song from Jeans.
National award winning director Bala was my roommate when I was in Chennai. I learnt a lot about moviemaking while observing and discussing with him. Later I got an opportunity to go to UK to attend Trinity Laban Conservatoire of Music and Dance. The purpose of this 8 month tour was to teach about Indian classical dances and learn western dances like Salsa and Jumba. During that time, I have also joined a course on filmmaking and completed it. I have done a documentary called 'Nava Jeevan – a new life' on street children. It was screened at Hollywood film festival and won appreciation award. This film was also screened 52 times in various international film festivals.
I have made another film titled Ushodayam for AP Government. This film also deals with children. This film has won Nandi award under children film category in 2007. I have done my first feature film 'Flash News'. It's a concept film that deals with journalism. Then I have done a reverse-screenplay film titled 'Aakasa Ramanna'. I tasted my first commercial success with Pilla Zamindar film.
Sukumarudu
This film is inspired by a novel called 'Main Street'. It's about an NRI from Europe who returns India for his business expansion. He is a selfish guy and he prefers money over relationships. This film is all about how he gets transformed into a good guy after visiting his village.
This film is made in 90 working days out of which we shot for 20 days in Europe. This film is done in 6 and half crores budget and the producer is in profits before release. The satellite rights of the film are sold for an attractive price.
Tell us about your next film with Venkatesh
Suresh Productions is completing 50 years and they want to come up with a world class film. I have prepared the same line 3 years back and mentioned it to Venkatesh and he didn't show much of interest then. When I narrated this story to him this year, he said that it's right time to do it. This movie will have neither dialogues nor songs. But it's not a silent film. We need to coin a new name for it. This film is a comedy on 'fear factor'. Lot of people fear of trivial things. The runtime of the film will be of 1 hour and 15 minutes. The story is original in concept and is not inspired by any movie. We are in the process of roping in acclaimed actors like Boman Irani and Tabu for vital roles. There are 12 important characters in the film. We will also aim for international film festivals like Cannes. This film will have world cinema flavor. At the same time it will be a commercially successful film as we are keeping the budget low.