Story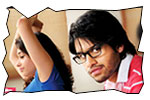 Balu (Naga Chaitanya) is a brilliant student and always tops his class. Maha Lakshmi (Tamanna) is maradalu of Balu and she comes from village and stays in Balu's house to do her graduation in the same college. Balu has the typical ego possessed by state rankers and he is obsessed by it. His studies get disturbed with the entry to Maha Lakshmi as she starts dominating him over a period of time. This leads to differences and ego clashes between Balu and Maha Lakshmi. There is also a subplot of two separated grand parents. The rest of the story is all about how Balu and Mahalakshmi realise that they are made for each other.
Artists Performance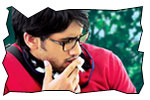 Naga Chaitanya: Naga Chaitanya who has done the role of an intense lover in YMC follows it up with a fun-filled character of Balu with a mental complex in 100% Love. He wore spectacles and a light beard and it suited the character very well. It is tailor-made character for him. His diction and accent is also changed in this film and it sounds little like that of Allu Arjun.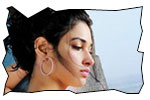 Tamanna: Tamanna looks fabulous in the movie. Her traditional hairdo in the beginning of the movie is not attractive, but she is gorgeous when she lets her hair loose in the latter part of the movie, She is an asset to the movie. Sukumar has shown bias towards heroine character in this movie as he etched her role as a magnanimous, understanding and empathising girl.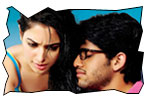 Others: KR Vijaya and Vijay Kumar did the role of grandparents. There are around 10 kids who entertain you will their mischief and innocence in the first half. Satyam Rajesh did a cameo and it is really good. MS Narayana did his second most preferred character (after drunkard) - college principal. Anand and Tara Alisha are good as beaus of lead pair. Naresh and Dharmavarapu Subramanyam are okay.
Technical departments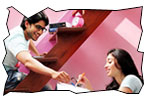 Story - screenplay - direction: Looks like Sukumar is carrying his school-day memories all along. The entire writing for the first half of the movie is taken from the college life and is wrote in a realistic, yet entertaining way. Sukumar brought the family angle in the second half to bring all-roundness to the commercial aspect of the script. The basic conflict of this movie is driven by the complexity of the male lead. Heroine character that enters as a nobody into the life of hero starts getting mature, intelligent, magnanimous and sexy as the story progresses. Sukumar is in his elements with 100% Love movie. He has also toned down the eccentricity he has shown in Arya 2 hero characterization to make 100% Love hero character an universally acceptable one. There are a few redundant and dull moments in the second half, but he managed to get everything right in the scenes that followed. Sukumar's creativity is wild, and it if it's kept under permissible limits - he is going to do wonders. The only unconvincing part for me in the script is the separation of grandparents, which forms the central point of the movie. Screenplay penned by J Hari Prasad is good. I liked the way the story is narrated from point of view of hero in the first half and the point of view of heroine in the second half.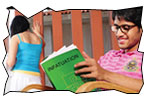 Other departments: Music by Devi Sri Prasad is superb. All songs are good. They are so good that I expected so much out of the picturization of the songs. The only song that completely satisfied my expectations is whistles-worth 'diyyalo'. The second best is 'Infatuation' song followed by 'A square'. Devi Sri Prasad has also excelled in the background score (the clucking sound of a hen/chicken used as bgm for chicken-eating episodes). Cinematography is decent. But there is no vibrancy in visuals. There could be a problem with lighting, photography, color-grading or visual effects (or the projection system in theater). This movie would have been really cool if the visuals are more vibrant (like Arya movie). Editing is fine. There is only one fight in the movie which is composed by Ram Lakshman. Pixelloid who are usually brilliant with their work should have taken more time in the visual effects as they look little patchy in the first song. The first time producer Bunny Vaas has done a neat job in assembling the best of the team to deliver a nice product. However, he should have invested more time/effort on the visuals output of the movie.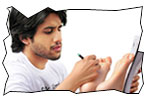 Analysis: I always have a feeling that movie quality/passion will be reflected in the title cards. And Sukumar never disappoints. The title cards of this movie are one of the best I had seen in Telugu films. First half of the movie is full of fun and frolic. Second half has family orientation and goes on a routine track. This movie is all about little nuances about psychology and fun. Plus points are Sukumar's creative thinking and music. There are a few dull moments in the second half, but they are not going to disturb the flow of the movie. The negative shade in hero characterization might not appeal to a few. On a whole, 100% Love is a cool film with nice entertainment. Go and watch it 100%.
Trade talk: This movie is made on a budget of 10.5 crores. 40% of it is recovered through the sale of satellite and audio rights. Nizam, East and West territories are retained by the producer and the rest are sold at a reasonable prices. With it's entertainment quotient and youth(1st half)/family(2nd half) orientation, 100% Love is likely to get profits to everybody involved in the supply chain (producer, distributor and exhibitor).
100% Love Links
• User reviews
• Music launch
• Muhurat
• Photo gallery
• Wallpapers
• Trailers & videos
Jeevi reviews of previous 5 films
• Mr. Perfect
• Teen Maar
• Shakti
• Aha Naa Pellanta
• Kudirithe Kappu Coffee
• LBW
• Vastadu Naa Raju
• Gaganam
• Jai Bolo Telangana
• Ala Modalaindi
• Golkonda High School
• Anaganaga O Dheerudu
• Mirapakai
• Ragada
• Manmadha Banam
• Nagavalli
• Kathi Kantha Rao
• Manasara
• Rakta Charitra 2
• Orange
• Yemaindi Ee Vela
• Kalyanram Kathi
• Rakta Charitra 1
• Khaleja
• Robo
• Saradaga kasepu
• Komaram Puli
• Don Seenu
• Maryada Ramanna
• Jhummandi Naadam
• Vedam


More Reviews